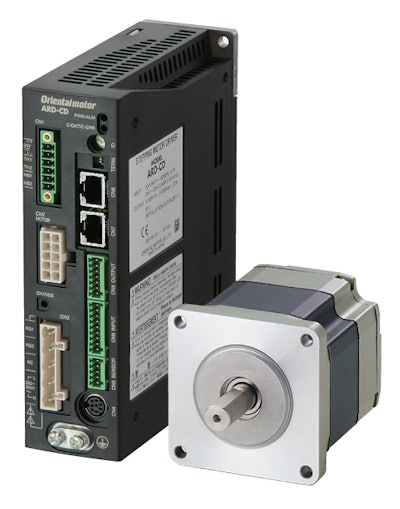 The AR Series uses the company's AlphaStep closed loop control along with lower heat generation for continuous duty.
The built-in controller motor and driver package uses a built-in pulse generator that allows the motor to be driven by a simple connection to a PLC or other devices. The burden on the PLC or touch screen (HMI) is reduced because the information necessary for the motor operation is built into the driver. This simplifies the system configuration for single or multi-axis control.
AR Series products are available with geared and brake options along with AC or DC input drivers. A 3m (9.8 ft.) cable comes standard. Frame sizes or geared options are available in 28 mm (1.10 in.), 42 mm (1.65 in.), 60 mm (2.36 in.), and 90 mm (3.54 in.).
The high-efficiency, energy-saving series also provides high accuracy and quick positioning. The AR Series also has new pricing for cost-sensitive applications that need a high level of performance.
Companies in this article