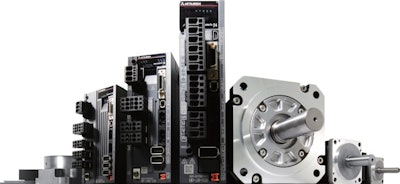 The MR-J4 offers new features for improved operator safety. A modular architecture provides a redundant two-channel STO input (Safe Torque Off) as standard on all MR-J4 amplifiers, and an optional module to provide SS1 (Safe Stop) input in line with EN61800-5-2. The system configuration also supports SIL2 (EN62061) and PLd (EN13849-1). For more advanced systems needing the highest level of safety support for SS2, SOS, SLS, SBC and SSM, the MR-J4B employs amplifiers and motion controllers with safety modules. This flexibility allows users to reduce costs by "tuning" their system configuration to meet only the needed safety requirements for the target applications.
In addition to the MR-J4A (analog/pulse train) and MR-J4B (SSCNET III/H motion network) models, the MR-J4 series includes two additional versions for two- and three-axis operation amplifiers. A more compact and efficient solution, this approach not only saves the machine manufacturer money in terms of energy costs and reducing CO2 emissions, but also saves on cabinet and panel space.
The next generation MR-J4 servo family also delivers cost savings with bus speeds three times faster via SSCNET III/H (Serial Network from Servo to Motion)*. And MR-J4 servos need fewer connections and less wiring and reduced energy consumption due to an increase of re-usable, regenerated energy when using the three-axis model.
The MR-J4 servo is also fully supported by the company's iQ Works integrated engineering software suite which provides PLC, motion and HMI programming and development in a single software package.
With one-touch, real-time adaptive auto-tuning and quick setup, machine builders just click one icon in the servo setup software and the amp automatically tunes itself. Servo gains adapt on the fly when the load on the machine changes, so there's no need to re-tune the machine for different loads.
The system also features a resolution of more than four million pulses per revolution. All the HG series motors come with 22 bit absolute encoders for optimal rotational positioning accuracy. The system's SSCNET III/H (Serial Servo to Motion Network) 150 Mbps delivers superior synchronization among servo axis, machine and data diagnostics. A vibration suppression control II function provides higher dynamic response on the machine with minimal tuning which helps extend the life of the machine, and MR-J4 amplifiers have a "life diagnosis function" that monitors the actual condition of components such as capacitors and relays. This function detects faulty machine parts such as ball screws, guide ways, bearings and belts. By analyzing machine friction, load moment of inertia, unbalanced torque and changes in vibration, timely maintenance can be scheduled to prevent costly downtime.
Other benefits include: reduced engineering time and costs; fewer components to minimize hardware purchases; one software package to program motion, PLC and HMI; fewer connections to reduce labor required for wiring; increased system reliability for faster, easier start-up; easier troubleshooting with detailed drive and motor status information.
Companies in this article