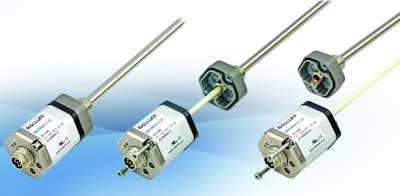 Micropulse Generation 7 linear position transducers come with non-contact magnetostrictive technology so that performance does not degrade over time, as with linear potentiometers. With the RRM option, the transducer electronics and sensing element can be replaced as a single unit, while the hydraulic seal remains intact.
Eliminating the need to remove the pressure tube from the hydraulic cylinder during the replacement process means there is no danger of oil spillage and no need for environmental containment procedures. There is also no need to bleed air from the hydraulic system and no danger of dirt or wood debris entering the open hydraulic port. Finally, there is no danger of repair personnel getting burned by hot oil.
The RPM also features 100% exchange of the sensor package to eliminate troubleshooting guesswork. The module is dimensionally identical to standard Balluff rod-style transducers, and replacement cartridges can be installed into existing standard pressure tubes. The RPM is available for all BTL7 output and connector types.
Companies in this article