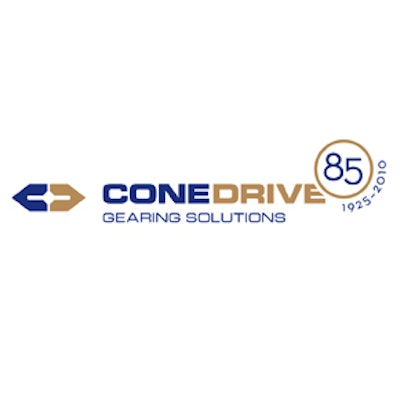 Long known for its double-enveloping worm gear the company is now eager to explore a new era of industry. The company is developing products for applications in emerging market segments.

"It's remarkable, after eighty-five years, that we're still finding new and relevant applications for our double-enveloping gear design," states Bob Nichols, Cone Drive Product Manager. "We are also experiencing more demand for our engineers' involvement at the front-end of projects, designing and integrating custom gearing solutions for highly-specialized applications—from precise satellite positioning to demanding conveying applications."

To further celebrate its anniversary—and forward-looking philosophy-- the company is launching a new logo and brand identity system. "Our eighty-fifth anniversary seemed like the perfect time to communicate our positive momentum with a brand overhaul," explains Nichols.

Using the new logo as its foundation, the Cone Drive 85-in. logo is a temporary brand mark for use exclusively in 2010 to symbolize Cone Drive's 85th anniversary.

Later this year Cone Drive is also launching their new website (conedrive.com ) with improved features and functionality.


Companies in this article