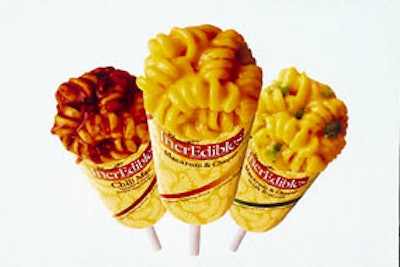 A heat-sealable membrane covers the top of the cylinder. The hand-held server concept is similar to that used for novelty ice creams.
The CEO for Columbus, OH-based Breakaway Foods, Nick Kosanovich, is also the vice president of marketing for Norse Dairy Systems (Columbus, OH), an equipment manufacturer that also makes the machinery used to fill such novelty ice creams.
At the Worldwide Food Expo held in Chicago in October, Packaging World spoke with Kosanovich. When pressed, he wouldn't reveal any details about the equipment, materials or the packaging process.
Robert E. Berman, the product's inventor and Breakaway Foods' president, says, "When we tested IncrEdibles with consumers of all ages, they not only told us how much they loved the taste and convenience, but . . . also how the products would fit into their busy lifestyles."
Breakaway Foods began shipping IncrEdibles to foodservice outlets and convenience stores in the East in November. The meals will also be sold in test markets at Amoco Split Second convenience stores in Philadelphia. "Subsequent availability will be in supermarkets, club stores, sports/entertainment arenas, vending, carts/kiosks, and other channels," according to a company press release. Sold frozen, the microwaveable products carry suggested retail prices ranging from $1.49 to $1.99 per 4 ?-oz serving.
In a hurry? Request more info via Web-based reader service by clicking on company name.
Or you can jump right to their Web.
Companies in this article