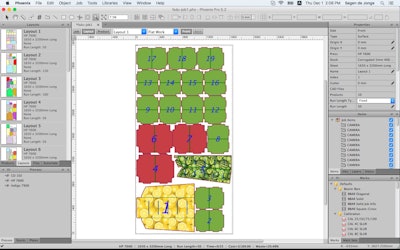 In March of this year, Advanced Graphics installed a Nozomi C18000 single-pass LED inkjet press from EFI. Historically a lot of AG's business has been focused on making "standees," the life-size cut-outs of action hero figures, princesses, and cartoon figures that retail stores use for product promotion purposes. But corrugated cases are also in the mix, and it's an area where Craig Henderson, AG's CEO, sees great potential.
The 71-in.-wide EFI Nozomi press is an ultra-high-speed production system that, according to EFI, redefines the role of digital print in the corrugated packaging space. Operating at speeds to 246 linear ft/min (10,000 35 x 35-in sq boards/hr two-up), the press features an innovative, single-pass, piezo ink-jet writing system that delivers accurate, high-fidelity color, including consistent reproduction on solid areas.
"Nozomi was available, affordable, and commercially ready when we needed it," says Henderson when asked why this particular press was selected by AG. "And the finish on the print it lays down is so much better than what available alternatives produce. The other thing that was critical was that 71-inch-wide capability. We needed that."
Like other converters of corrugated packaging who have embraced digital printing, AG realized pretty quickly that pre-production issues—pricing, prepress, workflow, job batching-- were going to be as much of a challenge as anything else. So they streamlined this part of their operation with a sophisticated planning, imposition, and automation software application called tilia Phoenix. Developed by Tilia Labs, it uses Artificial Intelligence to fully automate the creation of effective, print-ready impositions across potentially millions of possibilities.
"Converters operating digital presses have far more orders running through their plant than those who operate conventional analog presses, and these orders involve multiple substrates, corrugated fluting varieties, run lengths, number of inks to be used, and so on," says Tyler Thompson, Solutions Director at Tilia Labs. "Rather than asking the human brain to think its way through all these combinations and options to plan, batch, and gang orders as efficiently and cost effectively as possible, we leverage AI algorithms instead."
The software factors in a wide variety of parameters--including job specifications (quantity, dimensions, colors, substrates), press options, postpress requirements, and delivery considerations--to suggest optimal layout options. When a final option has been selected, tilia Phoenix generates print-ready layouts and JDF or die instructions--for all devices in the production chain.
Among the benefits gained, says Henderson, is waste reduction, partly because the software is so good at nesting—i.e., organizing artwork in files in such a way that every sheet sent through the press will hold the maximum number of packages possible. "Because it's so efficient at fitting artwork into a file, it's reduced the number of corrugated sheets required for a given print run," says Henderson. "A print run that might have required 600 sheets in the past may only require 400 today."
To understand how this AI solution improves upon what was available in the past, it helps to review how a converter like AG might have operated without tilia Phoenix. They used to have a production manager make an educated guess as to how many corrugated cases would fit on a given sheet of corrugated. Even if the production manager got an assist from software, this process of impositioning was still a very manual operation where one order at a time was dealt with. With tilia Phoenix it's quite different. Phoenix's AI uses a simulated model of the manufacturing conditions and production requirements. For example, AG models the speed, cost, and capabilities of their Nozomi press within the Phoenix application. Phoenix's AI then evaluates batches of jobs against every possible combination of orders, presses, run lengths, sheet sizes, and job constraints to return the most cost-effective plan for producing the jobs. An analysis with so many variables is impossible for a human to compute manually without the help of AI.
Tilia Labs' Thompson elaborates on how this kind of approach differs from comparable prepress and workflow solutions popular in the analog world. "Existing software solutions aimed at streamlining prepress and workflow in the package converting space address things like automating file separating and trapping, which don't even exist in digital printing. What Phoenix tackles is how do you worry about 100s or thousands of orders per week at very low quantities rather than 10 orders per week each in quantities of a million. Prepress imposition software available in the past didn't understand costing, or press time, or sheet utilization, or press utilization. Because in the analog world those things didn't matter so much. In the digital world, they matter more than ever."
Companies in this article