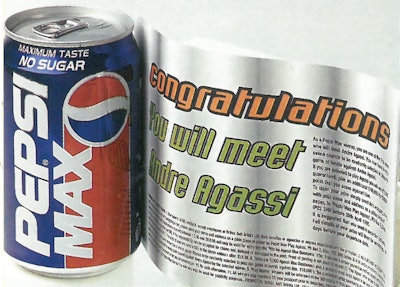 Packaging World asked in a February 1997 article on a PepsiCo U.K. Pepsi Max promotion. "An on-pack removable coupon that leaves no adhesive residue on the can… The cans were decorated with 2-mil polyvinyl chloride shrink labels inviting consumers to compete to win a chance to play tennis star Andre Agassi."
Two decades later, as demonstrated at the Craft Brewers Conference, held April 8-11, 2019, in Denver, many craft breweries are revisiting this printed can-labeling trend, albeit for very different reasons.
Notably, craft brewers are turning to the versatile and shelf-stable aluminum can instead of the traditional glass bottle. But volumes of small-batch beers rarely reach printed can manufactures' MOQs—only a few year-round varietals are produced in enough volume to merit their own printed cans.
So, small breweries are cunningly turning to PSL or sleeve-style heat shrink labeling bright stock. In many cases, they're often even labeling over their pre-printed cans—sometimes the flexibility is worth it, and printed cans are designed with overwraps in mind. Interesting to see that 22 years on, we've come up with another reason to label over an already decorated can.
Companies in this article