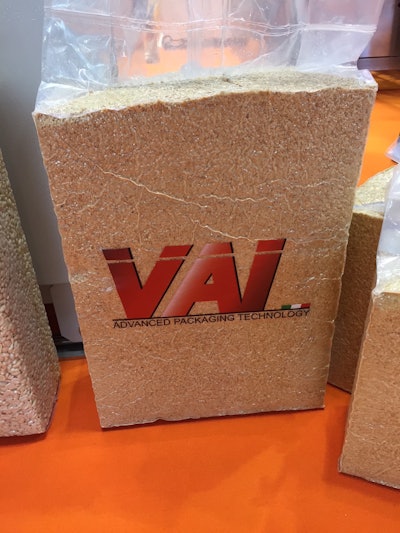 Behind the novel machine is VAI Packaging of Italy. Intriguing in the way it is designed, the machine receives rollstock over a forming mandrel and deposits the product into the tube. The package is then cut free from the continuous roll of material, and in a rectangular bucket-shaped tool it is taken to a station where an overhead device comes down and closes on the bag in its bucket. Here is where the bag has its air evacuated and where the top seal is made. The finished package is then discharged down a chute. One firm in Houston, TX, that has been using this technology for organic rice is Gulf Pacific Rice Co. To be certified as organic, no preservatives can be added to the rice. But in the absence of preservatives, if any oxygen is left in the sealed package, spoilage of one kind or another is inevitable. So by vacuum packaging the rice on this VAI machine, Gulf Pacific is able to ensure that its 5-, 10, and 35-Kilo packages make it to foodservice customers in good condition without any need for preservatives. The 5-kilo photo shown here is not a Gulf Pacific package, but it looks a good deal like one and is included here for illustration purposes.
How about a family of servo motors and drives that communicate wirelessly so as to eliminate any need for a fieldbus? That's what Italy's MiniMotor Mechatronic Solutions was showing at its Ipack Ima booth. The system uses the 2.4-GHz wireless communications protocol known as Zigbee. No cables or fieldbus needed, but with an Ethernet connection, data can be sent reliably and securely, says Claudio Aru, Technical Sales Director at MiniMotor Mechatronic Solutions. These wireless controls components are due out by the end of 2018, he adds.
Also impressive from an advanced controls perspective was a demonstration of EcoStruxure Augmented Operator Advisor, an application from Schneider Electric that is being leveraged by Italian machine builder Minipack-Torre, a maker of shrink wrapping systems. The Schneider app combines contextual and local dynamic information for mobile users, enabling them to experience a fusion of the physical, real-life environment with virtual objects. The custom application improves operational efficiency with augmented reality, enabling operators to superimpose the current data and virtual objects onto a cabinet, machine, or plant.
Companies in this article