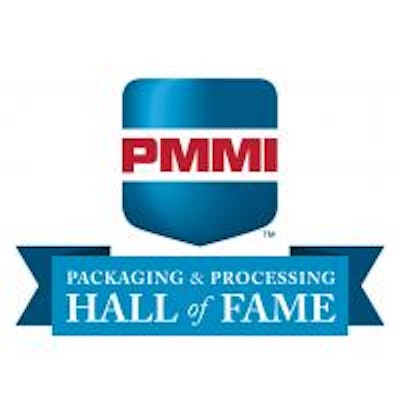 Any member of the packaging or processing community may submit a nomination for next year's Packaging & Processing Hall of Fame class. Nominations will open April 16, 2018. This honor is based on significant contributions to the industry and education.
"These professionals have contributed to our industry as advisors, pioneers, visionaries, educators, and as innovators and inventors of packaging and processing technology. Their contributions have led the industry to where it is today," says Jim Pittas, CEO, PMMI. Coordinated by PMMI, members of the Packaging & Processing Hall of Fame Commission will select this year's inductees.
Nominate someone
To nominate a deserving leader, visit pwgo.to/3408 on or after April 16, 2018. Nominations will be accepted until June 15, 2018.
The 2018 Packaging & Pro cessingHall of Fame Commission:
Patricia Anderson, Vice President of Human Resources & Training, Delkor Systems, Inc.
David S. Smith, Ph.D., Vice President, Global Package Development, Johnson & Johnson
Suzanne Fisher, Senior Program Manager, Special Handling Packaging, Amazon
Mary Gregg, President, Springboard Packaging Solutions, Inc.
Laura Bix, Ph.D., Professor, Associate Director, Michigan State School of Packaging
Tom Schneider, CPP, President, World Packaging Organization
Michael Richmond, Ph.D., PTIS, LLC, Global Management & Packaging Consultants
Bill Rice, Associate Manager, Packaging Technology, RD&E - Global Home Cleaners, SC Johnson
Kim Carswell, Director, Packaging, Target
James D. Downham, President & CEO, Packaging Consortium (PAC), Canada
Glen Long, Senior Vice President, PMMI
Joe Angel, President and Publisher, PMMI Media Group, Packaging World
Companies in this article