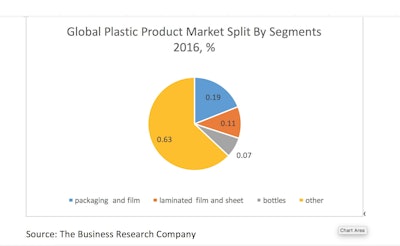 The global markets for plastic packaging materials, films, and bottles are growing at about 3% year on year, notes The Business Research Company in its report "Plastics Product Manufacturing Global Market 2017." These markets will be worth more than $420 billion by 2020, with $360 billion for plastic packaging materials and film, and $80 billion for plastic bottles. Together these segments make up 37% of the total plastic products manufacturing market, relates The Business Research Company.
According to the report, the U.S. and China are neck and neck as markets for plastic products, though China is about to draw ahead of the U.S. The market there is growing at 3% year on year, against the U.S.'s 1.6%. The markets in India and Brazil, though small by comparison with China and the U.S., are the fastest-growing of the big economies, at over 8% annually.
The global plastic products markets is highly fragmented: The top five competitors in the market made up only 3.2% of the total in 2016. However, a process of consolidation is under way; merger and acquisition activity has been at a very high level recently.
Notes The Business Research Company, 3D printing technology in design and production is a major trend in this industry. The speed and flexibility of this technology can promote innovation and reduce time to market. Products manufactured using 3D printers have good mechanical properties like strength and rigidity. For example, Stratasys has developed a machine that can combine colors with multi-material 3D printing. The printer uses cyan, magenta, and yellow, and plastics and elastomers as base materials to print objects with a wide range of flexibility and rigidity, transparency, and opacity.