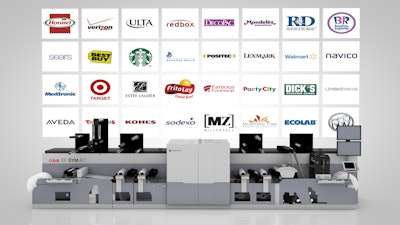 Meyers, a Minneapolis-based $60M company operating out of a 250,000-square foot facility, invested in the "MPS EF SYMJET powered by Domino," a new flexo/digital hybrid label press that allows Meyers to deliver a much larger variety of premium print treatments at lower costs to their customers. Meyers works with some of the biggest brands in the world, and they are excited to bring this Domino hybrid solution to them.
According to Eric Pohl, Vice President of Sales at Meyers, "This press is exciting to our customers because they can finally get what they have wanted all along. They're able to differentiate themselves from their competition by using cold foils, hot foils, spot colors, screen inks, and the digital unit to be able to handle the proliferation of SKUs that they have."
"We had the press configured for maximum flexibility," describes Dave McConnon, Vice President of Manufacturing. "At the front end of the press we have two flexo stations to be able to print white on film if we are using an underlying color. We chose the seven-color Domino unit with white to be able to have extended gamut printing. After the Domino unit, we configured with two additional flexo units so that we could print multiple varnishes or additional spot colors. We have a delam/relam unit so that we can print on the adhesive. We have a turn bar for backside printing. We have a cold foil unit that we can configure into any one of the flexo stations. And we configured the press with Kocher + Beck's quick-change die unit so that we can quickly change between one die shape and another."
Kees Nijenhuis, Vice President of MPS, articulates the simplicity of this highly-functional piece of equipment. "This hybrid press is a future-proof press and it combines flexo with converting and digital UV inkjet, all inline integrated in one machine."
Gregg Temple, President of the Label and Card group at Meyers, likes what the new press brings. "This is going to be really fun to put this in front of the customers, and see their reaction when they see what they can do now that they couldn't do before: go roll in on one end, finished goods out the other end, and have features on there that you could not do conventionally right now," adds Temple.
Meyers understands that utilizing technology as a vehicle for continuing to grow their business and differentiate from their competition is fundamental to the success they enjoy.
"The reason customers come to us to solve problems is that Meyers has a long history of doing things that others can't do, or won't do. Our hybrid makes the impossible…possible," says Matt Evers, Vice President of Quality and Continuous Improvement.
By all accounts, it seems like Meyers is on the right path.
"The first week that the machine was functional, we closed two new lines of label business that had been teed up to test on there as soon as we could run the machine. This new solution really ties into our brand promise: Through collaboration and excellence you create possibilities. So we are really excited about the idea of bringing new things to our existing customers and opening up new doors with new customers," concludes Temple.
To view the Meyers' MPS EF SYMJET hybrid label press, click here.
Companies in this article