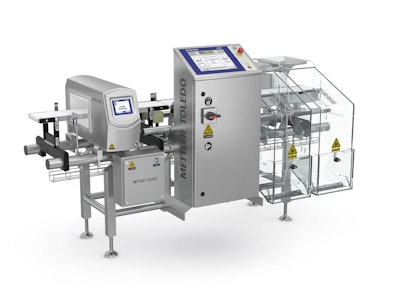 The new CM33 CombiChecker product inspection system is being highlighted at Mettler Toledo, booth, C-1814. During operation of the compact system, products pass through a metal detector, then are weighed on a checkweigher. Products detected to be contaminated with metal, or that are beyond weight parameters, are immediately rejected from the production line into separate reject bins for each defect, eliminating the possibility they will enter the marketplace.
According to Mettler Toledo, the CM33 allows companies to customize the system by selecting from a variety of options to match the needs of the specific operation where it will be used. These include selecting the most suitable checkweigher and metal detector from Mettler Toledo's range of options. In addition, a selection of available conveyors, guide rails, transfer plates, dual-locking reject bins, and rejector types are available to accommodate a range of package types.
These mechanical features are then complemented with choices from a library of line integration, functional and operational, production monitoring and control, and communication options. This enables end users to customize the CM33's security, performance, and data capabilities to meet the requirements of the relevant industry, customer and application.
The check¬weigher and metal detector set up and configuration are done at the checkweigher control panel. Product changeovers result in each inspection device automatically adapting to stored parameters for the new package.
Companies in this article
Videos from METTLER TOLEDO Product Inspection