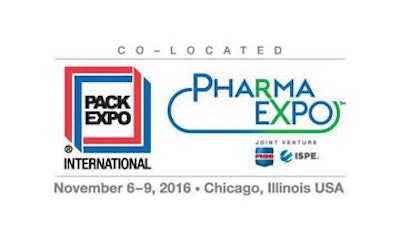 ASCO, an Emerson company, will sponsor the seventh edition of the annual Amazing Packaging Race at PACK EXPO International and Pharma EXPO 2016 (Nov. 6–9; McCormick Place, Chicago), according to PACK EXPO producer PMMI, The Association for Processing and Packaging Technologies.
"ASCO displays its continued support for education in the packaging industry by sponsoring the Amazing Packaging Race for the sixth consecutive year. We are grateful for their commitment to the industry and the success of this program," says Glen Long, sr. vice president at PMMI.
The Amazing Packaging Race will take place on Wednesday, Nov. 9, during the last day of PACK EXPO International and Pharma EXPO 2016 in McCormick Place.
"In order for the processing and packaging industry to progress further, we must engage and educate the next generation of innovators," says Robert W. Kemple, Jr., executive vice president, sales and marketing at ASCO. "Through the sponsorship of the Amazing Packaging Race, ASCO has an opportunity to show students the exciting possibilities this industry has to offer."
Participating students will make their way around the vast 1.2 million net square feet of show floor space to complete a series of tasks assigned by exhibitors. The race will conclude with the announcement of the winning team at the ASCO Booth (Booth # N-5345).
Exhibitors and PMMI Partner Schools are invited to participate in the Amazing Packaging Race. Contact Cheryl Wade, education program assistant, PMMI at 571.286.6809 or cwade@pmmi.org. Exhibitors are asked to contribute $500 to the PMMI Education & Training Foundation, which supports educational efforts including scholarships for students at PMMI Partner Schools.