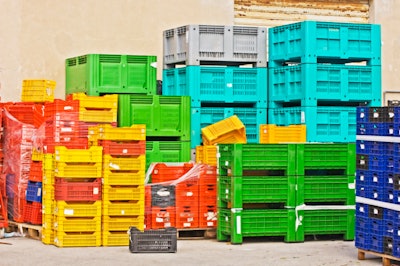 The Reusable Packaging Association (RPA) has issued comprehensive and science-based protocols to help ensure the continued safe use of reusable plastic containers (RPCs) for fresh and perishable products in the supply chain. The guidelines encompass the washing, handling, storing, packing, displaying, and collection of RPCs in the supply chain. They also include rigorous and defined Hazard Analysis & Critical Control Points (HACCP), and hourly, daily, monthly, and quarterly microbiological testing.
According to the RPA, here has never been a documented food safety issue associated with RPCs. In order to maintain this record, the RPA established a Food Safety Working Group in 2014 comprised of retailers, grower shippers, manufacturers, industry associations, and RPC providers to ensure their interests were represented in the resulting guidelines. This group of contributors spent a year thoroughly reviewing and researching potential points of failure, best practices, and industry regulations. The RPA's resulting guidelines combine common knowledge, best practices, and science, and surpass industry regulations. The report details best practices for retailers, growers, and providers of RPCs.
"RPCs have become a pervasive and essential part of the food supply chain. It is important that each member of the supply chain has a clear understanding of their role for the safe and efficient use of RPCs," says Paul Pederson, Chair of the RPA Food Safety Working Group and Director of Food Safety & Compliance at IFCO Systems. "The RPA strongly encourages all companies involved in RPC use to implement these recommendations and to treat RPCs with respect and as a critical part of the food safety supply chain."
Although the RPA is not an enforcing body, the association believes the guidelines will be widely adopted because they were developed with broad industry support and input.
For growers and retailers
For growers and retailers, a large part of the recommendations address practices to keep clean RPCs from coming into contact with potential contaminants. For growers, key practices include:
Wrapping pallets of clean RPCs
Transporting RPCs in covered van trailers or flatbed trailers with covers
Regular inspection of trailers
Storing RPCs under cover, preferably inside
Using only RPC-compliant labels
Retailer guidelines include handling and loading RPC pallets like any other packaged commodity.
Additionally, the RPA recommends that retailers and growers take steps to properly secure and store used RPCs to minimize their potential to contaminate other products and materials. Key recommendations for growers and retailers include:
Stack empty or used RPCs in a uniform and interlocking manner, collapsed, to eliminate the potential for them to topple over and contaminate other products in the area
Wrap used pallets tightly, and promptly notify the RPC provider for pickup
Creating stable and wrapped loads also helps prevent cross-contamination during transit and at the RPC provider's facilities.
Guidelines for adhesive labels
The committee also researched and developed guidelines for adhesives labels to help make sure that RPCs are clean and free of adhesive residue for each trip through the produce supply chain. The RPA also created a protocol to thoroughly test whether adhesive labels meet the new guidelines.
For RPC providers
The most detailed and numerous guidelines affect providers of RPCs. One of the more noteworthy best practices is the adoption of a comprehensive microbiological sanitation and testing regimen that covers human and plant pathogens in all aspects. This includes digitally dosing and controlling detergents and sanitizers. Thresholds and parts per million (ppm) should strictly follow chemical manufacturer guidelines for food and food contact materials.
Redundant electronic and manual processes should ensure these parameters are always correct. Additionally, the RPA recommends that suppliers adhere to HACCP to control biological, chemical, and physical hazards in the production process. It is further recommended that companies maintain a trained and qualified individual to monitor compliance with the HACCP program.
The guidelines also provide uniform testing and surveillance practices to ensure the quality and food safety of a company's sanitation processes. The practices include: quality control, systems check log, titration log, surface swab tests, process validation, and preoperational environmental inspection release. The RPA recommends that testing occur hourly, daily, monthly, and quarterly in order to record and monitor a statistically significant sample size representative of the entire production.
"Most RPC suppliers are already doing a thorough job of sanitizing and managing RPCs; however, they have different processes to achieve the end result. Creating and documenting uniform best practices satisfies the need of users of reusables who need defined guidelines to share with members of their supply chains. And strong adoption of these practices will strengthen the safety of RPCs in the food industry and further their adoption," says Pederson.
The committee also detailed additional best practices for suppliers that cover:
Transportation
Two-tier auditing program
Documentation
Training program
Integrated pest management
Comprehensive security measures for internal, external, and shipping