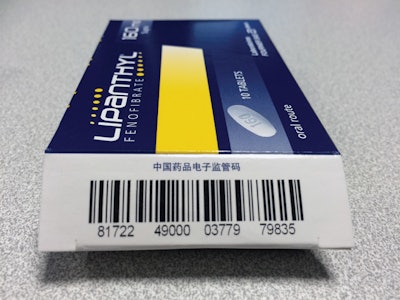 A new regulation determining serialization was introduced by the Chinese regulatory authority with strict importation deadlines set in place offering zero flexibility on full compliance.
Recipharm developed an adaptable solution using a meticulous and methodical approach proven to ensure full and complete compliance in which 57 serialized batches have been supplied since Feb. 2014.
The project, for a top 10 pharmaceutical company, was achieved in record time and a number of strategies to anticipate delays were adopted. Advanced planning ensured that all suppliers were thoroughly vetted and selected between February and June 2013, with orders placed in early July of that year.
Integration was key, with Recipharm working closely with the pharmaceutical customer, forming project teams and a joint steering committee. Costs were minimized and success was possible due to the constant interchange of ideas and information. New technology was also introduced and applied to ensure each individual box had its own 1D barcode and unique serial number.
Stéphane Guisado, General Manager at Recipharm Fontaine said, "We are very pleased with the success of this China-focused serialization project carried out for the pharmaceutical partner concerned. Traditionally, full compliance with China's regulations, especially in the field of serialization, has proved to be a major challenge for the pharmaceutical sector. There is no room for compromise when it comes to meeting regulatory deadlines. Moreover, the timelines set by laws have to be met in full and on time and are often imposed with relatively short notice regarding implementation leadtime."