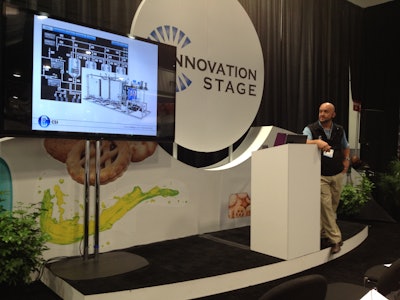 Automated Clean-In-Place systems are widely used for fast cleaning and sanitation in food and pharmaceutical applications. The latest designs, as seen at Pack Expo 2013, show a degree of electronic and mechanical integration to enhance productivity not just by controlling the flow of cleaning solution but by eliminating human error.
One such system is
CSI
, Springfield, MO, which specializes in custom design and fabrication of process equipment. Bryan Downer, vice president of sales with the company, demonstrated at the Pack Expo Innovation Stage some of the the features of its automated CIP 2.0 system, which illustrate how the system delivers state-of-the-art safety and productivity. In addition to high-efficiency pumps, motors, and heat exchangers, the system uses controls from Rockwell Automation for monitoring of parameters such as valve cycles and motor runtimes to reduce downtime and maintenance costs. Control components include an Allen-Bradley variable frequency drive for advanced power control of pumps; communication via embedded EtherNet/IP networking; and software to records critical functions in compliance with the S88 batch automation standard and CFR 21 Part 11 process safety management regulations.
One of the greatest tools for productivity is found in the graphical software screens that help maintenance workers view electronic manuals and instructional videos and manuals on the system's 15" color touch screen. For instance, a maintenance technician working on a pump seal can click on the graphical user interface's representation of the pump, then click on "maintenance information" to reveal all operational parameters as well as maintenance information, which can include PDF manual for the seal, or even a video showing that technician how to perform preventive maintenance chores such as a repair or replacement of the seal.
"So there's no more searching for manuals," said Downer, and "there's no excuse for them not to repair and maintain those parts as they should."