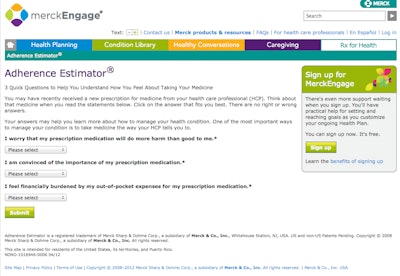 Merck understands that one of the most significant problems facing the U.S. healthcare system is that many patients do not take their medicines as directed. In fact, research shows that 75% of adults fail to adhere to their prescribed medications. The cost of patient nonadherence approaches $300 billion and causes 125,000 deaths each year in this country. With healthcare costs projected to reach nearly $3 trillion this year, improving patient adherence represents a way to cut costs and save lives.
The packaging community continues to address the issue, often with calendarized packs for solid-dose pharmaceuticals and easier-to-use pens, injection devices, therapeutic patches, and other dosing methods.
Merck, too, is researching adherence-prompting packaging. But the Whitehouse Station, NJ-based maker of vaccines, medications, and consumer and animal health products also seeks to actively involve patients and health care professionals in an effort to not only understand the reasons behind nonadherence, but also uncover what interventions can be taken to greatly reduce it. One tool it has developed in this effort is the Adherence Estimator®. Adherence Estimator is a registered trademark of Merck Sharp & Dohme Corp., a subsidiary of Merck & Co., Inc.
The Adherence Estimator is a three-question survey that can help health care professionals quickly gauge a patient's willingness to take a newly prescribed medicine for a chronic condition. "By understanding that a patient has reservations about taking a newly prescribed medicine, a health care professional is able to have a more effective conversation with the patient about these concerns," says Colleen A. McHorney, PhD, Senior Scientist for Merck's U.S. Medical Affairs organization. "The Adherence Estimator serves as a means to jump-start the discussion."
Research conducted by Dr. McHorney in recent years identified three primary reasons why patients do not always adhere to their medicine regimen. She calls them the three Cs—commitment, concern, and cost. Patients sometimes do not understand why the medicine is needed and therefore are not fully committed to their use. They may have concerns about possible side effects, and the third part, cost, can be a significant issue as well.
McHorney's research, which involved thousands of patients, found that some patients have a combination of issues that lead to their nonadherence. "It is not unusual for a person who is prescribed three or four medications to be taking one consistently and in full compliance, and another they may not be taking at all because they don't understand the value of it; and they may be taking a third medicine only half the time because of concerns about side effects."
Easy to use tool
Visit the Web site (shown here) and you can see that patients only need to answer three quick questions to begin to gain a better understanding of the importance of taking their medicine. Physicians can click on "for healthcare professionals" to better learn how to support their patients using the Adherence Estimator and other resources. You do not need to be prescribed a medicine manufactured by Merck to use the resources.
McHorney points to other studies that demonstrate the need for improving communication between patients and their health care professionals. "Research shows that 74 percent of doctors believe their patients are adherent to their recommendations. Yet, 83 percent of patients in another study stated they would never tell their doctor if they did not plan to take their medicine as prescribed."
While improved communication is one of the keys to improving adherence, McHorney agrees that other interventions such as disease education programs, medication reminder devices, and improved packaging can also be important to individual patients. "We are looking at packaging certainly as one of the elements of trying to help patients to adhere to their medications," she says.
For now, Merck isn't saying just what potential adherence-prompting packaging it may introduce into the market, but it only makes sense that it will employ its adherence research in the form of a patient-friendly package at some point in the future. "Our focus is really about making it easier for patients to take their medicines," says McHorney. "And that's one of the ways you can make it easier."