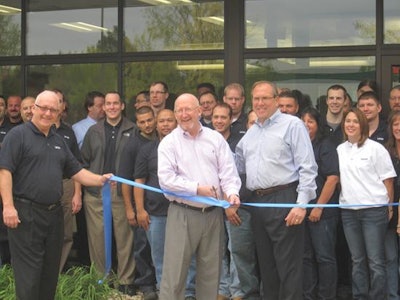 With a vision for reducing customer lead times and expanding its footprint in the U.S., Lenze Americas announces the grand opening of its midwest mechanical product assembly and logistics center. The new facility supports the electro-mechanical product manufacturing line for the Americas region and should exceed the capacity of the previous 29,000 sq.-foot distribution facility it replaced, by 3 to 4 times.
Along with the increase in actual facility size, comes modernization. Gene Wood, dir. of operations, Lenze Americas, says, "Our new automated paint line has quick drying capabilities and is specifically designed for Lenze's products," added Wood. "The new paint line—powered by Lenze drives and gearmotors to assure 100% reliability and quality—allows us to ship our product to our customers just one hour after painting."
"Since opening the new facility, we are exceeding our expectations of number of orders. We invested a lot of time preparing for this move—most of our new employees spent several months training at our Massachusetts headquarters prior to our opening, and will complement our experienced staff that relocated. As a result, our team was prepared to hit the ground running," says Wood.
Lenze products are found in many industries including automotive, packaging, material handling and logistics, robotics, and commercial equipment. The complete line features ultra-efficient inverters, sophisticated servo automation systems, and robustly engineered gear motors and mechanical components. The relocation to the Chicago area includes all aspects of manufacturing operations for Lenze gearboxes, motors, and geared motors.

Companies in this article