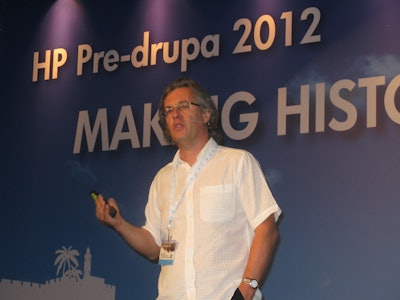 That was a key message delivered this morning at the HP Pre-drupa 2012 event in Tel Aviv, Israel.
"The pull from brands is stronger than ever," said Alon Bar-Shany (shown here), vp/general manager of the Indigo Digital Press Division, in a coffee break following this morning's opening session in Tel Aviv. Other conversations at the HP event last night and this morning confirm this keen interest in digital printing on the part of CPG companies. It has everyone anticipating a strong showing by brand owners at drupa 2012 May 3-16 in Dusseldorf, Germany.
In response to this growing brand-owner interest in digital printing, HP Indigo is unveiling two new presses designed specifically to make digital printing more suitable for folding cartons and flexible packaging. This is significant because to this point digital printing's applications in the packaging arena have been primarily in labels. By introducing the web-fed HP Indigo 20000 for flexible packaging and the sheet-fed HP Indigo 30000 for folding cartons, HP Indigo seeks to move more firmly into the mainstream flexible packaging and folding carton markets.
"HP Indigo digital printing already has transformed the label market," said Christopher Morgan, senior vp Graphics Solutions Business at HP. "With these new, larger-format and higher-throughput presses, we bring the unique benefits of digital to other segments of the packaging market. With these new presses, we can help packaging printers offer their customers the benefits of digital printing and redefine what is possible for the brands they serve."
The HP Indigo 20000 press is scheduled for commercial availability in late 2013. It is a roll-to-roll digital press designed primarily for flexible packaging. Its 30-inch web width and 44-inch repeat length accommodate most flexible packaging format sizes. With up to seven-color printing and print quality that matches gravure production, it can meet brand owners' stringent color and quality requirements, said Bar-Shany.
The HP Indigo 30000 is also scheduled for commercial availability in late 2013. A sheet-fed press, it offers a 29.5 x 20.9 inch format size compatible with existing offset printing presses used for mainstream folding carton applications. The HP Indigo 30000 offers seven-color printing on carton stocks up to 600 microns thick and can run up to 4,600 sheets per hour in HP's Enhanced Productivity Mode and 3,450 sheets per hour in regular four-color process printing.
Both of these new digital presses will feature an EskoArtwork print server and upstream prepress tools.