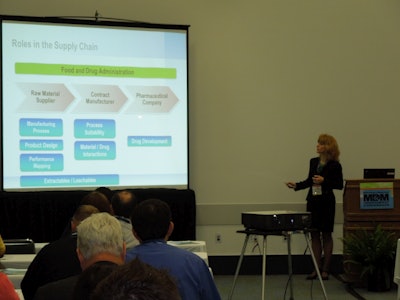 Greater dosage control is driving unit-dose packaging formats. "With more of a focus on outpatient care and the self-regulation of medicine, there's greater onus on patients to take the right medications in the right amount."
Dosage control, the control and global tracking of products, childproof packaging, and the expansion of biologics are four blow-fill-seal-related market drivers in the pharmaceutical industry, said Jill Martin (shown in photo), senior research scientist at Dow Chemical Co.
Martin was the leadoff speaker at the Feb. 13 "Advances in Medical Polymers for Medical Devices" Conference held during MD&M West in Anaheim, CA. Her presentation, "Polyolefins for Blow-Fill-Seal Pharmaceutical Packaging," addressed uses of different polymers, primarily for liquid delivery systems, and how well they function in different pharmaceutical packaging, sterilization, and distribution processes.
Responding to audience questions, Martin said she is noticing more of a need for barrier properties for blow-fill-seal applications in biologics. She praised polyethylene as a "benign option in which we know much about."
Combination products, and in particular, bioresorbable stents, served as a focus for the presentation, "Processing Considerations for Bioresorbable Polymers in Medical Applications," given by Lothar Kleiner, Ph.D., a polymer consultant and Volwiler Associate Research Fellow, Abbott Cardiovascular.
Much of Kleiner's discussion centered on the use of PLAA (poly-L-lactide) as a material used to make bioresorbable (not absorbable, he said) scaffolds (not stents, he added). Abbott's ABSORB scaffold that dissolves in the body was recently honored with a 2011 Wall Street Journal Technology Award. Kleiner warned how easy it is to degrade sensitive scaffolds/stents, referencing packaging and sterilization processes.
Exhibit halls for Medical Design &Manufacturing West, WestPack, Automation Technology Expo West, and related shows at the Anaheim Convention Center are open from 10 a.m. to 5 p.m. Feb. 14 and 15, and from 10 a.m. to 4 p.m. Feb. 16.