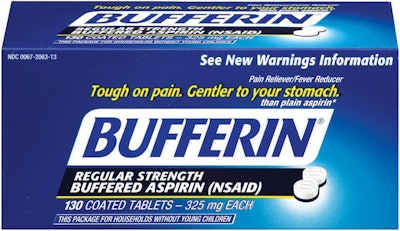 New developments were reported in the voluntary Novartis recall in "What you need to know about the Novartis drug recall," from The Daily Nightly on MSNBC.com. It noted, "The FDA warned Monday [Jan. 9] some of Novartis' over-the-counter pills may have been packaged with prescription opioid drugs sold by Endo Pharmaceuticals, which are packaged at the same facility. Those drugs include Percocet, Endocet, Opana and Zydone."

On Jan. 8, Novartis Consumer Health Inc. announced a voluntarily nationwide recall of certain OTC products due to the potential presence of foreign tablets or chipped or broken tablets or gelcaps. These included packages of Excedrin, Bufferin, Gas-X, and NoDoz products. The announcement garnered considerable media attention, showing photos of packaged products and footage of pharmaceutical packaging lines.

Packaging also made the news in "Stem Cell Fraud," a Jan. 8 "60 Minutes" segment with correspondent Scott Pelley. As the episode's script of the segment reads, "We had the cells sent by the highest medical standard. Duke University suggested we use something called a dry shipper, cooled with liquid nitrogen. We sent the dry shipper to Stem Tech. Stem Tech sent the frozen cells to us, and we forwarded them to Joanne Kurtzberg. A computer chip inside our package verified the cells were properly frozen all the way."

To clarify, 60 Minutes said that Dan Ecklund, founder and director of Stem Tech Labs of Equador, is a person it has been tracking regarding stem cell-related claims. Dr. Kurtzberg, said the show's script, is a scientist conducting advanced studies in stem cells.
Looking back to Dec. 30, 2011, packaging was again in the spotlight, this time on the report, "Over-the-counter inhalers taken off the market," which aired on NBC in Fort Myers, FL. The story/video noted, "Local pharmacies are preparing to take the only over-the-counter asthma inhaler off the shelves. It's because of concerns its propellant is damaging the ozone layer." The report said that the chlorofluorocarbon (CFC) propellant "is now banned in the U.S. by the Food and Drug Administration because it's responsible for 1/10th of a percent of global CFC emissions."