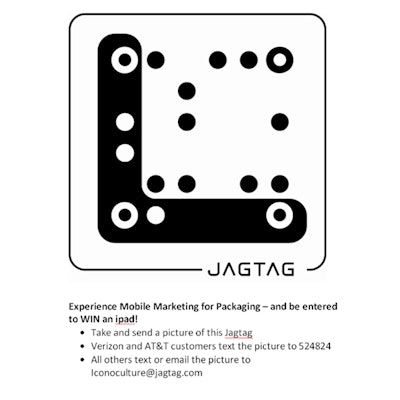 This special area of
Pack Expo
, produced by the Packaging Machinery Manufacturers Institute, is being developed and produced by PACK EXPO's exclusive consumer and packaging insights partner, Iconoculture.
The interactive feature represents the second part of Project 2020: The Consumer Experience, sponsored by DuPont. Prototypes of packages of the future as envisioned by the package design and development community will also be displayed in The Brand Zone.
"When packaging delivers a great experience, consumers remember it. That hasn't changed. What has changed is what's included in the experience. Today, an increasing number of brands are extending that 'great experience' beyond convenience and functionality to include interactive and mobile technologies that truly engage consumers — even after they've left the store," says Charles D. Yuska, president and CEO of PMMI, the sponsor and producer of PACK EXPO.
In addition to offering one-on-one demonstrations of augmented reality and mobile marketing for packaging applications, Iconoculture will present a series of 15-minute multisensory presentations from the floor of The Brand Zone. As part of these presentations, strategists from Iconoculture's Global Packaging Advisory Service will share how these packaging technologies reflect current and future consumer lifestyles, values and purchasing-decision mindsets.
Attendees will also learn about Iconoculture's unique approach to delivering comprehensive global consumer and packaging insights for brand owners, converters and package designers through the integrated analysis and interpretation of data from multiple sources.
"Iconoculture has an extensive background in analyzing and understanding consumer behaviors, and the ability to uncover innovative packaging technologies ahead of the curve. That makes Iconoculture the ideal partner for this project," Yuska adds. Iconoculture has scheduled four presentations daily from Sunday, Oct. 31 through Tuesday, Nov. 2. Three presentations are slated for Wednesday, Nov. 3. Timing is as follows:
Sunday, October 31 — Tuesday, November 2
9:30-9:45 a.m.
11:00-11:15 a.m.
1:30-1:45 p.m.
3:00-3:15 p.m.

Wednesday, November 3
9:30-9:45 a.m.
11:00-11:15 a.m.
1:30-1:45 p.m.
Registration is not required to attend the presentations, but seating will be available on a first-come, first-served basis.
Iconoculture has included a custom mobile marketing experience for Pack Expo attendees in the announcement you are reading. Learn more about mobile marketing apps, Iconoculture's presentations in The Brand Zone, and become eligible to win an iPad by scanning and texting or emailing the JagTag accompanying this story. No code reader downloads are required.