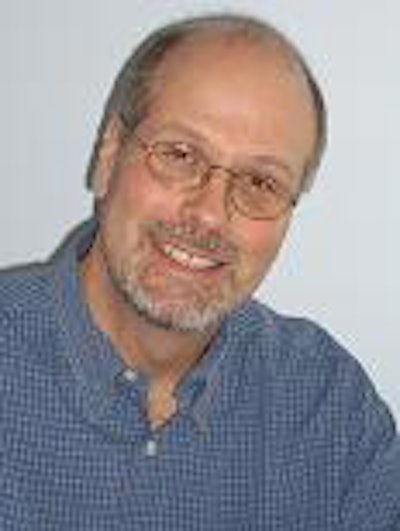 Packaging Insights
unveils this month our wry look at packaging in the real world in the first of a series of ongoing contributions from writer Brad Shorr entitled,
"The Lighter Side of Packaging."
Our first story comes from June Anderson, a partner in the Packaging Knowledge Group. Her story proves that even a former Chairman of the IoPP and member of the Michigan State University Packaging Hall of Fame can always learn something new about packaging automation.
It happened in Michigan several years ago when June was visiting a nearby office furniture client. Here is her story:
"One day, while out in the plant, I was crossing over the conveyor when someone called out to me. As I turned around, I stepped off the conveyor (raised conveyor). In those two motions, the skirt I was wearing was moving enough that it got stuck on the stretch wrap holder, and lifted my skirt as I stepped off the conveyor. I cannot even type what I said as it happened."
Thereupon June made an understandably hasty exit. She recalls that while only a few people witnessed her uplifting experience, everyone in the facility had heard about it before she made it back to the office.
June was too polite to say—and I was too afraid to ask–exactly what she said as her skirt went flying, but I imagine it went something like this. "OH BLEEP BLEEP BLEEP BLEEP BLEEP BLEEP BLEEP stretch wrapper."
I did have to ask her, "Do you still wear skirts when you're working on the line?"
"Sometimes," she says. "But I try to steer clear of the stretch wrap machinery."
June, thank you for the great story, and for giving men everywhere another reason not to wear kilts.
If you have an amusing anecdote to share from your part of the packaging world, please contact Brad Shorr at bradshorr@gmail.com.
June Anderson has 25 years experience as a packaging engineer and manager. Learn more about her and her firm at the
Packaging Knowledge Group Web site
.
Brad Shorr is a writer, blogger, and online marketing specialist with an extensive background in the packaging industry. Learn more at the
Word Sell, Inc. Web site
.
Companies in this article