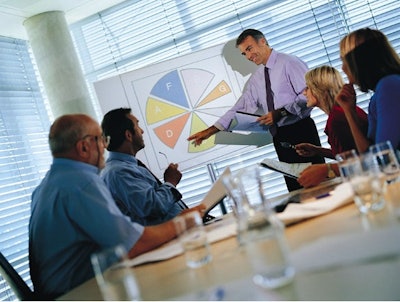 If you're a project manager (PM), chances are you aren't technically proficient in all of the project's areas. Really, though, you don't have to be.
But you'd better be passionate about the project's outcome and exhibit that passion when dealing with its participants, observes Andy Woyzbun, lead analyst with Info-Tech Research Group (www.infotech.com), a London, Ontario, Canada-based research and consulting firm. Succeeding by delivering on-time completion and meeting quality and time expectations involves five essential factors.
1.
Recognize your organization's project-management maturity
, Woyzbun recommends. To have credibility, operate within whatever culture exists, he advises.
2.
Establish authority
. "If you don't have adequate control of project resources, you're heading for deep waters," Woyzbun cautions. But know and show your dependence on others, he advises. The successful PM takes the time to say, "I depend on persons A, B and C. I've got to find ways to show them the project is important. And I've got to find the way to show them that nothing is going to work unless we pull together."
3.
Get vendors and management appropriately involved
. "The general urban myth is that more involvement is better, but too much can be negative," Woyzbun states. One specific type of involvement that he characterizes as "bad," and which could lead to under performance, involves senior management preselecting technical solutions they found elsewhere.
4.
Develop an effective plan
, which might alleviate the potential predicament just mentioned. Woyzbun thinks three descriptors—realistic, comprehensive and measurable—apply to either simple or intricate plans. Realistic means sensibly assessing the team's availability and capabilities, having adequate contingencies, and understanding risks. Comprehensive implies recognizing and involving all key players. Measurable signifies obtaining evidence that particular milestones have been achieved. He adds that PMs must define milestones and how achievement is detected.
5. Finally,
understand your role
. Likely, that won't mean believing the project revolves around you or that you're only a recordkeeper. Inevitably, though, a PM's smarts, leadership, creativity, and understanding of role will surface when glitches derail or at least distract the project. If a manager has established authority and is committed to delivery, "you have to apply leadership and creative skills—and sometimes you have to lean on people," Wozybun observes.
While possessing and implementing the five factors facilitates success, Wozybun emphasizes that passion is the real driver. "If you think the project is important, then you'll put your energy into it." Otherwise, "you'll do a lousy job."
To read the complete article, see
Passionate Project Managers Deliver the Goods
, published in the January issue of
Automation World
.