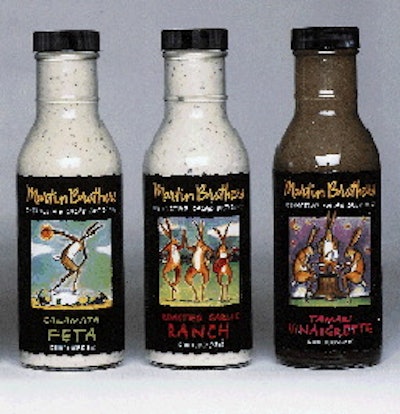 Each flavor of the gourmet dressings features a different colorful illustration of Beatrix Potter-esque rabbit characters by artist Sarah Higdon.
The Austin, TX-based Martin Brothers has been selling the dressings in the Austin area for eight years but hired Cindy Goldman Design (Austin, TX) to redesign the label last year. The label, a 60-lb glossy paper stock, is flexo-printed in four colors by Hyde Park Label (Austin, TX).
These striking labels are a far cry from their predecessor: metallized paper with simple graphics printed in just two colors. The new design costs 50% more to produce, says Jeff Martin, CEO and co-owner of Martin Brothers. But he adds that volume and sales are also up 50%, so the extra costs are well worth it.
Martin says the pack-aging was essential to communicate the gourmet, upscale quality of the salad dressings. "It's the highest-quality dressing on the market, and it has the best flavor. But because it's at a higher price point, consumers need to know that before they try it," Martin says. "Packaging is hopefully what will get them to buy the first bottle."
Available in upscale grocery stores such as Whole Foods Market and Wild Oats Market, Martin Brothers Salad Dressings have West Coast and Midwest distribution, with East Coast distribution to begin in a year. The retail price is $3.99 to $4.79, depending on the market.
Companies in this article