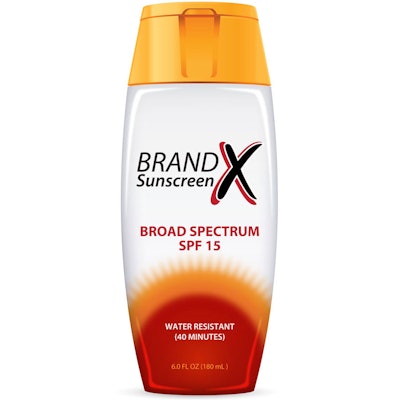 Beginning in the summer of 2012, the U.S. Food and Drug Administration's final regulations on sunscreen will become effective. The regulations establish a test for over-the-counter sunscreens to determine which products may be labeled "Broad Spectrum," meaning those products protect consumers against both ultraviolet B and A radiation.
According to the FDA, sunburn is primarily caused by UVB. The agency says, "The new labeling will also tell consumers on the back of the product that sunscreens labeled as both "Broad Spectrum" and "SPF 15" (or higher) not only protect against sunburn, but, if used as directed with other sun protection measures, can reduce the risk of skin cancer and early skin aging. For these broad spectrum products, higher SPF (Sun Protection Factor) values also indicate higher levels of overall protection."
FDA also notes, "Sunscreen products that are not broad spectrum or that are broad spectrum with SPF values from 2 to14 will be labeled with a warning that reads: "Skin Cancer/Skin Aging Alert: Spending time in the sun increases your risk of skin cancer and early skin aging. This product has been shown only to help prevent sunburn, not skin cancer or early skin aging."
FDA also reported the following sunscreen labeling-related matters:
• Water resistance claims on the product's front label must tell how much time a user can expect to get the declared SPF level of protection while swimming or sweating, based on standard testing. Two times will be permitted on labels: 40 or 80 min.
• Manufacturers cannot make claims that sunscreens are "waterproof" or "sweatproof," or identify their products as "sunblocks." Also, sunscreens cannot claim protection immediately on application (for example, "instant protection") or protection for more than two hours without reapplication, unless they submit data and get approval from FDA.
• The agency is proposing a regulation that would require sunscreen products that have SPF values higher than 50 to be labeled as "SPF 50+." FDA does not have adequate data demonstrating that products with SPF values higher than 50 provide additional protection compared to products with SPF values of 50.
• FDA is requesting data and information on different dosage forms of sunscreen products. The agency considers sunscreens in the form of oils, creams, lotions, gels, butters, pastes, ointments, sticks, and sprays to be eligible for potential inclusion in the OTC sunscreen monograph--meaning that they can be marketed without individual product approvals.
Separately, FDA MedWatch announced that its May monthly safety labeling-related changes and warnings include 47 products with revisions to prescribing information. These included boxed warnings, contraindications, adverse reactions, and patient package inserts.
Companies in this article