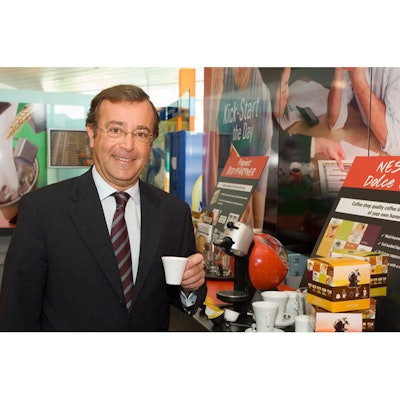 You may envision Vevey, Switzerland-based Nestlé as a global food giant, but on its Web site, the company refers to itself as "the world's leading nutrition, health, and wellness company."
On May 24, Nestlé Health Science S.A. announced that it had agreed to acquire Prometheus Laboratories Inc., a San Diego-based company that specializes in diagnostics and in-licensed specialty pharmaceuticals in gastroenterology and oncology. The company focuses on conditions such as inflammatory bowel diseases, including Crohn's disease and ulcerative colitis.
Luis Cantarell (shown above), Nestlé Health Science president and CEO, said, "This acquisition is a strategic move into gastrointestinal diagnostics. Prometheus's leading-edge diagnostics and highly experienced medical sales representatives together constitute a robust platform for Nestlé Health Science to accelerate its current and future healthcare business. It will enable new personalized healthcare solutions based on diagnostics, pharma, and nutrition."
In its press release, Nestlé said, "Prometheus's strong expertise and R&D in gastrointestinal diagnostics will accelerate the research program that is being established in the newly created Nestlé Institute of Health Sciences. It will create new opportunities for developing personalized nutrition strategies that will help in the management and prevention of chronic health conditions. The R&D pipeline will encompass other areas of strategic interest for Nestlé Health Science, such as metabolic conditions and brain health."
Joseph M Limber, Prometheus Laboratories Inc. president and CEO, noted, "We are delighted to join Nestlé Health Science, and share their commitment to personalized healthcare. Together, we will accelerate the development of our innovative diagnostic platforms for gastroenterology and oncology. We intend to leverage Nestlé Health Science's products and geographic presence to add the nutritional dimension to our successful business model."
'Healthy' competition?
The acquisition illustrates the growing competition pharmaceutical firms face in the medical foods arena, where the lines between foods, vitamins, and medicines continue to blur.
In an article headlined, "Nestlé's Brabeck: We have a "huge advantage" over big pharma in creating medical foods" published online by CNNMoney, Nestlé chairman Peter Brabeck told Fortune: "First of all, we bring the understanding of the patient that pharma companies normally don't have--they think about molecules and things like that. Secondly, we have a huge advantage because we know how to texturize the product. For example, if you cannot swallow, we can give a product a texture that allows you to swallow. We can give also products a taste so that you would eat even though you feel lousy."
Asked in the article about the company's medical food offerings, Brabeck noted that Nestlé has "developed a full line of products that help counterbalance the negative impact of chemotherapy. We also have a company that makes chewing gum for people who have chronic kidney inflammation. So instead of getting injections, you can take chewing gum and it will have the same effect. There are a lot of chronic diseases in which nutrition can either be additional help or be preventive."
Packaging Hall of Fame inductee Edward J. Bauer devotes an entire chapter to medical foods in his "Pharmaceutical Packaging Handbook." In it, he writes, "Packaging will play a key role in many of these therapies. Products that provide convenience and are easily portable to fit today's lifestyles are needed. Patients may be undergoing radiation, chemotherapy, or dialysis while continuing to work. The ability of packaging to deliver medical foods to these patients and fit into the hectic nature of daily schedules will spur developments beyond existing packaging. Packaging for patients with medical needs and suffering from arthritis or other physically restricting conditions will also benefit from medical foods that are convenient to open and use."
With Nestlé's extensive experience in consumer product packaging, it would seem logical that the company would utilize packaging structure, shapes, materials, and graphics to build its sales of medical foods in the future, possibly using personalized medicine and package sustainability as marketing tools.