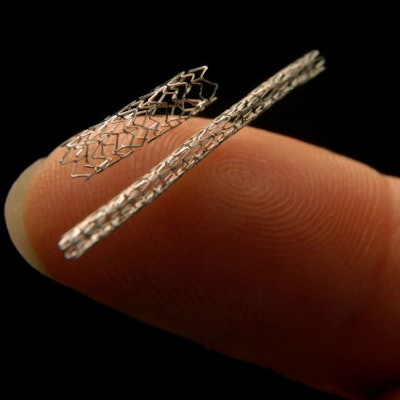 Two common combination products, say a drug-coated or eluting stent (two different stents are shown here), and vaccine in a syringe aren't new. Yet the ever-expanding variety of advanced biologics-based combination product treatments are creating new packaging challenges from manufacturing through the distribution chain as these products may be sensitive to handling, light, temperature, humidity, processing, etc.
Such products, whether they combine drug and biologic, medical device and drug, biologic and medical device, or all three, represent a developing trend, according to Dr. Jane Severin. She noted this trend during her presentation, "Medical Device Packaging—Current & Future Trends," June 10 at the Medical Packaging Update held during MD&M East in New York. Severin, director of technology with Oliver-Tolas Healthcare Packaging, holds a BS and PhD in Packaging from Michigan State University, and has worked in engineering and senior management positions for Schering-Plough, Cardinal Health, Bayer Corp., Baxter Healthcare and others.
What do combination product advances mean within the medical device packaging community? That will be a focus of a new Combination Product Packaging Task Group being formed within the Medical Device Packaging Technical Committee of the Institute of Packaging Professionals. Jim Butschli, Healthcare Packaging magazine editor, will head the new Task Group. Volunteers with experience in combination product packaging are welcome to share their knowledge and expertise. Please e-mail butschli@packworld.com for more information.
A good reference for combination products, complete with definition and product examples, can be found at the U.S. Food and Drug Administration's Office of Combination Products' Web site.
Companies in this article