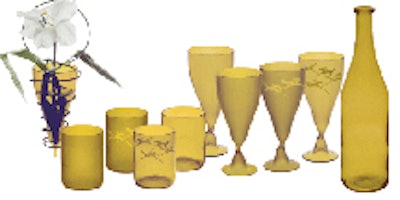 Cowhorn Vineyard & Garden, a small organic winery in Applegate Valley, OR, has just sent its first shipment of 1,000 used wine bottles to The Green Glass Co. where they will be upcycled into heirloom goblets, pitchers, tumblers, vases, and votives.
In a complementary program, the Ashland Food Co-op, Southern Oregon's first and only Certified Organic retailer, has partnered with Cowhorn, which is the wine region's first and only Demeter-certified Biodynamic® estate winery, to convert used corks into reusable, compostable wine packs guaranteed to contain a minimum of 99% recycled content.
Corks collected at Ashland and at the estate's Applegate Valley tasting room are sent to Corvallis-based Western Pulp, which manufactures high-quality biodegradable packaging and planters from recycled pulp.
At Cowhorn, even the soft metal bottle cap covering the cork gets a new life through Rogue Recycling, the company says. The winery invites Rogue Valley residents to recycle torn tins and natural corks from any winery and used Cowhorn bottles at its Applegate Valley tasting room.
"Everything in nature flows in cycles, and there really is no such thing as waste," Cowhorn co-owner Barbara Steele. "It's not enough for us to endeavor to grow great grapes and produce world-class wine. Being biodynamic is also about closing all of the loops, and that means taking responsibility for our packaging. We provide our local community a way to upcycle glass and recycle corks, and hope to inspire other wineries and wine lovers to do the same in their region. One of the greatest aspects of the emerging biodynamic wine world is that there is genuine spirit of friendly competition in an all out race to the top to do the right thing."