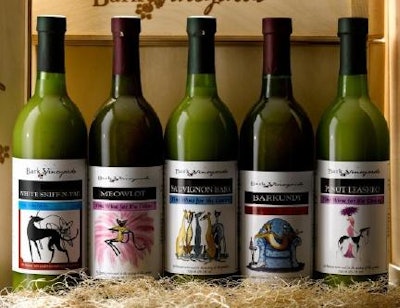 In recent years, we have seen how pets are being pampered more and more through premium and ultrapremium offerings and corresponding packaging, an impression substantiated by industry figures.
Euromonitor
values the 2007 U.S. market for premium and superpremium dog and cat food at $7.2 billion, up 41% over a five-year period.
This growth is also reflective of demographics.
Mercanti Group
estimates that while only one-third of American households have a child, two-thirds have a pet.
An interesting packaged example of this upscale market that came recently to my attention takes this trend to the upper end of the premium spectrum: Bark Vineyards' bottled "varietals" for your dog or cat.
In reality, the products are alcohol-free gravy or au-jus that turns dry kibble into a gourmet feast. While that's been done before, other products have not been all dressed up in packaging like Bark Vineyards': The 750-mL green bottles mimics that of regular wine bottles and is sold in stores including wine outlets.
Owner Kathleen Ramsey of the Williambsurg, VA-based company admits that the resemblance to human wine is purely intentional.
Intended resemblance
"We selected the packaging because we wanted it to look identical to human wine," she tells us. "Because we're Bark Vineyards Fine Wine for the Canine, it didn't make sense to go with anything else other than your standard green wine bottle to create that look of a fine wine."
Not to worry, if someone mistakenly drinks this canine concoction, Ramsey assures all parties that the products have been made according to human standards in an FDA-approved facility.
In fact, label copy playfully states that "no humans were used in the testing of this product."
Obviously, Ramsey has some fun with the concept, underscored by the varietals that include Barkundy, Meowlot, Pinot Leasheo, Sauvignon Bark, and White Sniff-in-Tail.
The company's Web site, www.barkvineyards.com, includes a downloadable tongue-in-cheek "Licker License" for retailers to display.
Commenting on the rapid growth and success of this start-up company, Ramsey says, "Bark Vineyards was a novelty idea that turned into a success with not only wine lovers, but with people who love their dogs and cats like most love their children." Introduced in 2005, sales doubled in 2007 over 2006 and Ramsey expects sales to triple in 2008.
Ramsey has obviously barked up the right tree in tapping a market opportunity that she feels is also largely recession proof.
Meanwhile, let's toast Fluffy and the power of packaging.
To hear more about Bark Vineyards' product and packaging, listen to the Podcast
Fetchingly packaged:
Bottled 'wine' for pets
.