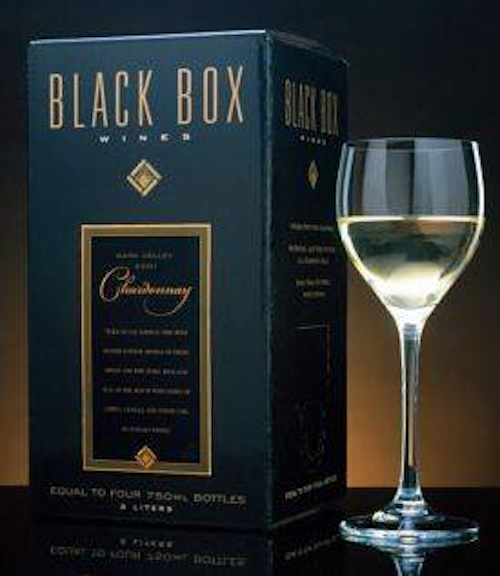 The article "Makers of premium wine are thinking inside the box" by Laurie Daniel, from the San Jose Mercury News, offers some food for thought about bag-in-box and wine packaging. Here are some of the article's key points of interest:
In a blind taste test, a bag-in-box wine scored better than some bottled wines costing five times as much.
Black Box Wines Chardonnay (see picture), a bag-in-box wine, created a stir when it won a silver medal at the San Francisco Chronicle Wine Competition in 2003.
Half the wine sold in Australia is bag-in-box.
As wine is dispensed from B-I-Bs, the bag collapses, preventing oxygen from reaching the wine, retarding wine degradation.
A senior market consultant for a wine advisory firm observes, "The biggest hurdle [to B-I-B packaging] is simply consumer perception." It's the same hurdle that screw caps are facing.
A number of California wineries are using screw caps. One, Napa's PlumpJack Winery, bottled half of its $100-plus 1997 Reserve Cabernet with screw caps, which was seen as a publicity stunt. (It worked.)