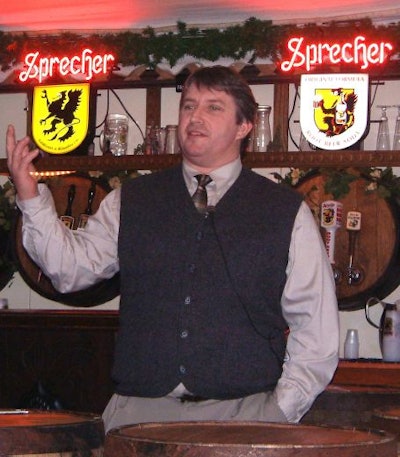 And how can packagers react quickly to out-of-control packaging lines before a significant quantity of out-of-spec product is packaged?
Turns out these are two sides of the same coin, according to Roddy Martin (pictured) of AMR Research. Martin spent nearly a decade at South African Brewers (now SABMiller).
At the recent Rockwell Automation Fair in Milwaukee in mid-November, Martin said at most companies, the hodgepodge of information systems across the plant floor--including those connected to packaging machinery--create disconnected silos of information both inside and outside of a company.
He related a true story concerning a pharmaceutical company that took nearly three months to investigate why a "major nonconformance" had occurred in a batch of product 25 days after it had been packaged. That tied up $4 million of working capital, the value of the product in question. Manufacturers need to figure out how to give that information to the operators "when the process is going out of control, so we change your behavior to fix it before bad product is made and packaged," said Martin. "The information is there, it's just a matter of integration."
Concerning the hodgepodge of different (and typically unconnected) systems, Martin said, "How on earth can you make decisions with these disconnected systems? Lack of integrated systems is one of the biggest problems in manufacturing."
His conclusions:
1. Speed to market can improve if all the systems are integrated. "Until companies have a better information management strategy, we'll continue to deliver products to market in 27.5 months."
2. Make sure you choose a real-time, event-driven software package for the packaging environment.
Justifying investment in information integration
On a related note, if better information allows better decisions, how do you value better information? That's the question Tropicana faced when justifying the purchase of real-time data monitoring systems, according to Glenn Johnson, from Tropicana's corporate engineering department. Johnson, who also spoke at the Rockwell Automation Fair, said that the reality is nobody knows what the value of better information is strictly by itself. The savings have to come from "anecdotal evidence of different cases where we were able to obtain pretty good savings by having better information." He cited an example using vibration monitors that caught a potential catastrophic failure--before it occurred--a day after the monitors were installed.
Unilever's Dave Atherton, also speaking at the fair, drew the distinction between data and information: "I'm drowning in data, but I've got no information." He also said that operators, mechanics, engineers, and planning personnel all have different information needs that must be met.
Companies in this article