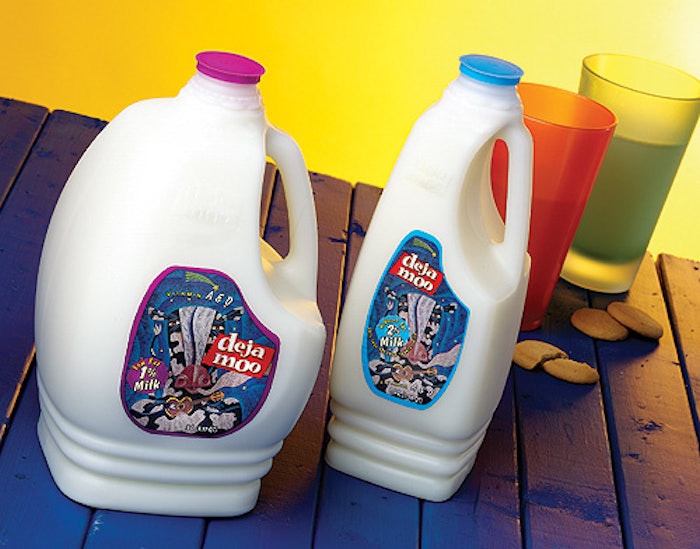 Licensed from Deja Moo, Minneapolis, MN, Deja Moo does for multi-serve milk what has taken the industry by storm in single-serve sizes: provide unique packaging with snazzy graphics.
"Deja Moo has actually grown our milk volume and continues to sell well," says Swiss Valley President and CEO Gene Quast. "During our launch in Dubuque, Iowa, it sold so quickly we had to run delivery specials to keep restocking." Initially concerned about cannibalizing, Quast says that didn't happen. "We have been able to take space away from the other guys."
Swiss Valley offers 10 stockkeeping units of Deja Moo in high-density polyethylene containers designed by Enterprise IG and blow-molded by Roffe Container. The bottles feature distinctive ribs above the base for visual differentiation only. The bottles have the same width and height as regular jugs—except with a narrower base and shoulder—so they run readily on current dairy equipment. Swiss Valley currently bottles Deja Moo only at its Dubuque plant.
The packaging design is radical enough to appeal to teens, Deja Moo president Jim Odney says, but also to moms. "The three-liter size is easier for kids and older adults to handle and pour than gallons and doesn't 'overstay its welcome' in the refrigerator like gallons," he says. "Consumers perceive Deja Moo milk as better than other milk, even though it's exactly the same milk, and the packaging contributes to that."
At retail, the downsized bottles are priced accordingly less than standard milk sizes—less volume, but more weight. For example, the 3-L bottle weighs 72 grams, compared to 56 grams for a larger (by 26 oz, or 20%) 1-gal jug. Consumers see the added rigidity as boosting the quality, says Odney of the decision to use heavy-weighted bottles. Thus, Deja Moo bottles also offer dramatically less leakers, mainly due to the heavier material and strengthened 38-mm neck finish.
Companies in this article