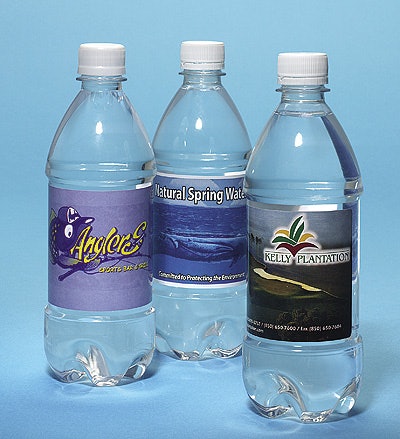 Making that possible are pressure-sensitive labels from Color Craft Label Co. While structures vary, a typical label includes a 55# paper facesheet/flexo printing in up to eight colors/0.8-mil polypropylene over-lamination. A 1-mil adhesive layer is used between the facesheet and backing liner, which is a 40# super-calendared kraft paper.
"The lamination makes the labels durable enough to withstand immersing in ice and water," says Scott Singler, president of American Beverage Company.
ABC is a "full-service" distributor that sells to institutional and retail businesses for their private-label brands. It fulfills customer orders by acquiring the labels and arranging for water to be filled by various bottlers.
One bottler used by ABC is Nantze Springs, which produces its own line of Nantze Springs Natural Spring Water, as well as private-label brands such as those shown here.
"These labels give an advantage to grocery and convenience stores, hotels, restaurants, and the like," says Malone Garrett, Nantze Springs' president. "We fill for more than 100 different labels that we bottle at our plant in Arlington, Georgia. We have a specialty line that can produce short runs of just a few cases." —JB
Companies in this article