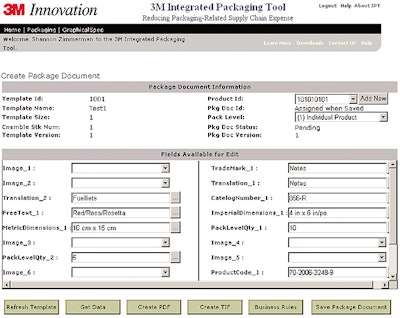 So management searched the marketplace for a tool that would let them reap the savings identified in the study. Finding no such tool that met their requirements, they partnered with a software development company and created their own tool.
Web-based and capable of better managing all facets of packaging information—structural, graphical, and textual—the new tool was quickly recognized as a solution that could be sold externally, as well. That, in a nutshell, is how the 3M Integrated Packaging Tool came to be launched this January. 3M sees it as most suitable for medium- and large-sized manufacturing companies.
From the user's perspective, 3M's tool brings all the elements of packaging together in a Web-based environment, so that people, materials, and suppliers can be most efficiently deployed. The Integrated Packaging Tool can be hosted by 3M or installed locally on a company's network. Both deployment scenarios are in a Web environment, so the tool can be accessed from anywhere in the world, at any time of day. And because it's complementary to Enterprise Resource Planning (ERP) solutions such as Oracle, SAP, and others, it can pull in host data, enforce business and regulatory rules, maintain tight security, and archive a full history of activity, according to 3M.
"The Integrated Packaging Tool utilizes existing infrastructure and systems to enable companies to methodically create, find, organize, edit, delete, route, archive, and print the information that makes up the package," says Mike Haldane, business manager of 3M Global Packaging Services. "With most companies supporting multiple databases and disparate ERP systems, packaging specifications management has become a real struggle. Specifically, companies are having difficulty with customer requirements, government regulations, translations, and inconsistencies in dealing effectively with foreign suppliers.
"We believe that regulated businesses such as packaged foods, pharmaceuticals, medical devices, personal health care, and chemicals will benefit most from this tool," Haldane continues. "Packaging costs are often spread throughout such companies, in areas like manufacturing, quality control, shipping, marketing, supply chain, sales, package engineering, and legal. So the costs are difficult to calculate."
With this Web-based tool, says Haldane, the calculation is easier. "It can help alleviate much of the pain associated with managing packaging specs while simultaneously reducing a company's packaging-related supply-chain expense."
As part of its Integrated Packaging Tool services, 3M provides a team of experts to evaluate a company's packaging processes and identify hidden packaging-related costs.
According to Haldane, pilot programs currently underway involve not only several consumer packaged goods manufacturers but also creative and production agencies that serve the manufacturers. These parties cannot, as yet, be named, says Haldane.
Companies in this article