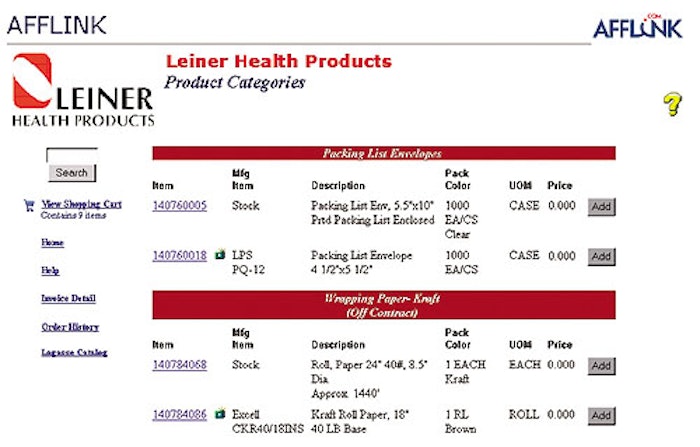 In April '00, Leiner became one of the first customers to use Afflink's online ordering system, which permits national accounts to purchase online janitorial and shipping supplies such as corrugated containers and shrink wrap. According to Doty, Leiner spends $1.7 million dollars a year on such products from the online purchasing consortium at www.afflink.com. "The firm saves more money in administrative costs than could ever be saved in product costs achieved by buying offline from multiple vendors," he says.
Thirty Leiner employees at six U.S. locations have online access to place orders at their convenience. Orders are placed continuously, in the past causing Leiner to attend to 800 invoices a year. Now, Afflink sends a monthly invoice that gives a product breakdown by department and location.
"It is nice not having to place a purchasing order and match up the purchasing order, receiver slip, and invoice," says Doty. "It saves us a lot of time by having shipments sent directly to departments, and only having 12 billing cycles a year."
Afflink's online catalog includes 14ꯠ products from 400 suppliers. Advanced search tools include subcategories to find the desired products. A product screen displays a picture of the item, detailed description, and shopping cart for ordering. Once an order is submitted, a confirmation e-mail is sent.
Buyers can save order templates for items that are continually purchased. For example, Leiner may order shrink-wrap, bubble wrap, envelopes, and corrugated containers once a week. After placing the first order, Doty can save the order and name the template. When Doty returns to place another order, he can simply choose the template and submit an order without having to search the catalog again. Items can be added and removed from a template at any time.
Doty is pleased with the quick order process and automation offered by Afflink. "Now our purchasing department can initiate new projects and strategies rather than partaking in the clerical duties of placing orders," says Doty. "We didn't have time to do that before."
Companies in this article