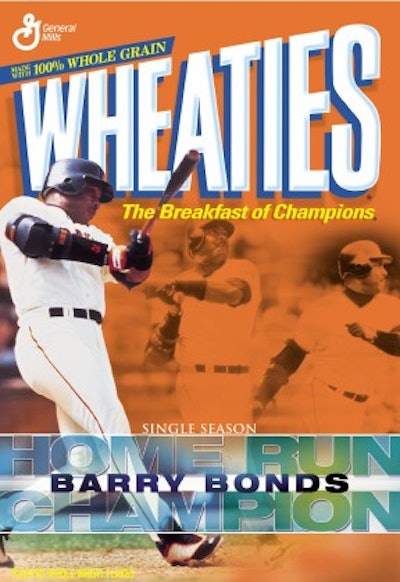 The box commemorates Bonds' incredible season in which he shattered Mark McGwire's single-season home run record by crushing 73 round-trippers.
"Barry Bonds' accomplishments this year are absolutely phenomenal," says Brian Immel, Wheaties marketing manager. "We've featured some of the best baseball players of all time on our packages, and Barry Bonds certainly has earned his place on that elite list."
General Mills declined to provide further information as to the number of boxes, the expected duration of the boxes in stores, or the technical aspects of the packaging. Bonds' historic race to the home-run title ended dramatically when he hit four home runs in his final three games. In addition to pounding 73 homers, Bonds also set single-season records with his .863 slugging percentage and 177 walks. Bonds homered once for every 6.52 at-bats this season, breaking McGwire's 1998 record when he homered every 7.27 at-bats. Previous appearances Bonds' previously appeared on the Wheaties box in March 1998 with eight other baseball all-stars, including McGwire and Cal Ripken, Jr. Wheaties began its association with sports in the mid-1930s with a sign on the left field wall at old Nicollet Park near downtown Minneapolis. General Mills' broadcast deal with the minor league Minneapolis Millers on WCCO Radio included the large signboard that Wheaties would use to introduce its new advertising slogan: "Wheaties—The Breakfast of Champions." From that humble beginning, Wheaties has built a heritage that includes many of the greatest athletes of all time. And now it includes Barry Bonds, baseball's new single-season home-run king.