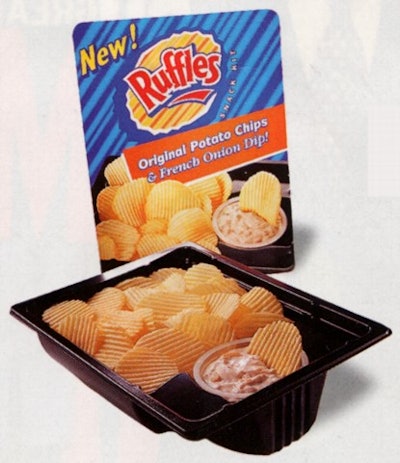 "The snack kits bring consumers' favorite chips together with dips in an all-in-one convenient package," Frito-Lay spokeswoman Lisa Van Riper tells Packworld.com. "The outer packaging provides a protective barrier for the chips and dip inside. This makes the kits portable enough to survive a trip to the office or to the soccer field." No refrigeration is needed.
Curwood (Oshkosh, WI) supplies the lidstock, which is heat-sealed to a custom-manufactured black polypropylene tray from Rock-Tenn Co. (Norcross, GA). The tray measures 9" x 6 7/8" x 2 1/4", though sizes vary depending on variety. The lidstock is flexo-printed in eight colors, and is made from a proprietary lamination that was designed specifically for Frito-Lay snack kits.
What's in the kit?
Inside the tray, Ruffles chips are prepackaged in a proprietary, metallized high-barrier flexible lamination produced by Bryce Corp. (Memphis, TN) that is flexo-printed using eight colors. The dip container, a stock cup supplied by the Rampart Packaging Div. (Williamsburg, VA) of Printpack Inc., is a multilayer coextrusion of polypropylene with an ethylene vinyl alcohol barrier. It is sealed with a foil laminate printed in at least five colors.
The chip bag and the dip cup are inserted into the tray either manually or automatically, depending upon the manufacturing location. Frito-Lay does both in-house and co-packer production filling and sealing of the product. According to Van Riper, Frito-Lay invested in new equipment and new manufacturing lines specifically for the kits, though she declines to identify their suppliers.
The 5.5-oz Ruffles Original Potato Chips & French Onion Dip snack kit retails for $1.99. Snack kits are also available in Tostitos Chips & Cheese Dip, Fritos Chili and Scoops! Hearty Combos, and Fritos Fiesta Cheese Dip & Scoops! Hearty Combos. "We will continue to introduce our best-scoring concepts from consumer tests to the market," says Van Riper.
Companies in this article