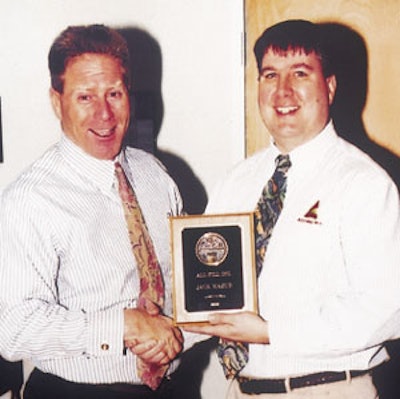 —Windmoeller & Hoelscher Corp. (Lincoln, RI): Hans Deamer, president; Andrew Wheeler, vp, sales.
—Packaging Machinery Manufacturers Institute (Arlington, VA): Jennifer Ellek, communications manager.
—Kerr Group, Inc. (Lancaster, PA): Thomas G. Ryan, vp, corporate quality management.
—Klöckner Pentaplast (Gordonsville, VA): Michael P. Ryan, marketing mgr.; Kevin Carter, market development specialist; Michael Tubridy, executive vp.
—paperloop.com (New York, NY): Leo Nadolske, vp, trade shows, conferences.
—Formers of Houston (Pasadena, TX): Robert DeAlejandro, sales rep.
—Krones Inc. (Franklin, WI): Thomas Jordan, vp, plastics div.; George Mankos, senior project mgr., plastics div.; Michael Skroblin, senior mgr., product and service, plastics div.
—Graphic Packaging Corp. (Golden, CO): Robb Hirschberg, marketing mgr.; Bill Minnich, marketing mgr.
—Vantage Pak (New Britain, CT): Mike Lycosky, sales mgr.
—Redex Packaging Corp. (Schaumburg, IL): Dale Reichhart, president, COO.
—Enercon Industries Corp. (Menomonee Falls, WI): Rory A. Wolf, dir. business development.
—Nordson Corp. (Duluth, GA): Scott R. Miller, gen. mgr., paper and paperboard converting business unit.
Companies in this article
Videos from Nordson Corporation
Videos from Graphic Packaging Intl.