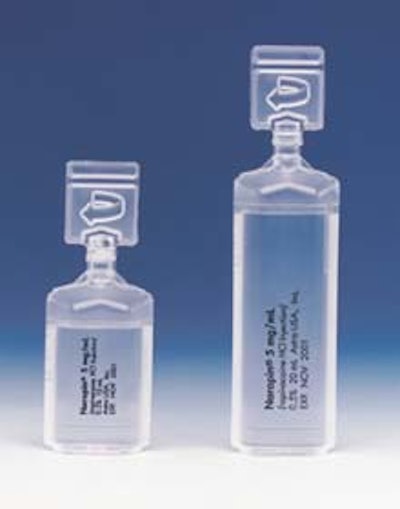 Naropin™ and Xylocaine®-MPF anaesthetics used to be filled into glass vials. Now they are sterile-filled and sealed in Polyamp DuoFit™ 10- and 20-mL PP containers that are designed to connect directly to syringes.
It was done, notes AstraZeneca public affairs manager Joe Shields, for economic as well as safety reasons. "Hopefully, this will enhance safety in the healthcare setting," says Shields. He doesn't quantify the cost savings gained in switching from glass vials to the PP containers.
In use, the ampule's top is twisted off and the syringe tip is fitted into the now-open ampule. The drug is drawn into the syringe, and only then is a protected needle screwed on. "For all intents and purposes, [the procedure] is needle-free for healthcare workers until you get to the patient," states Shields.
It's another step in the company's ongoing conversion from glass vials and ampules to plastic via the PolyAmp ("polypropylene ampule") containers that began in early '99. "It's a lighter package, so there are also shipping efficiencies," notes Shields.
The PP ampules are packaged on aseptic blow/fill/seal machinery from Automated Liquid Packaging (Woodstock, IL) and rommelag USA (Fords, NJ).
Companies in this article