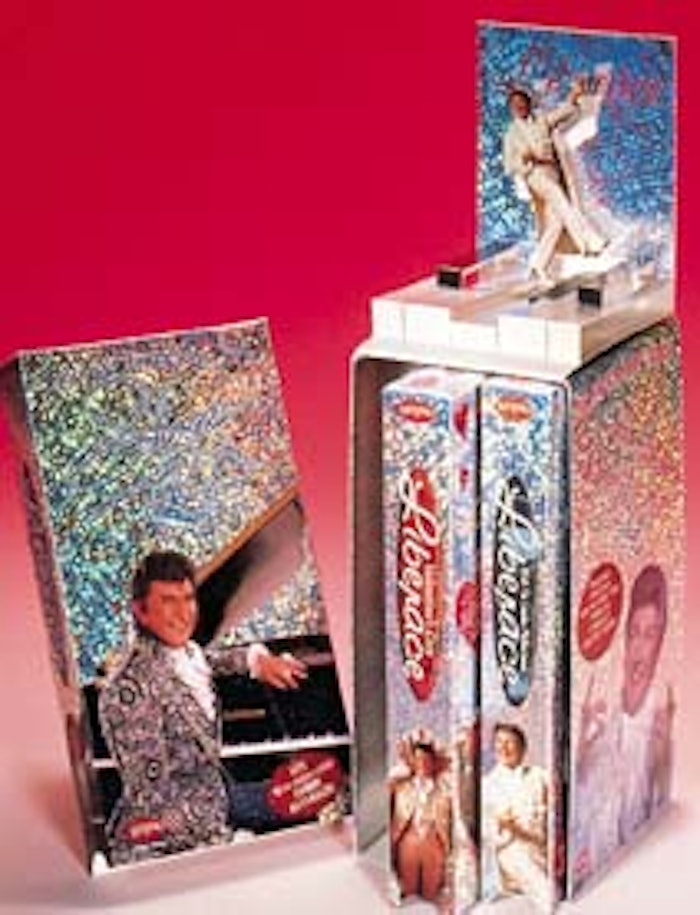 A sparkling holographic pattern is what gives the packaging its Liberacian glow.
"We wanted to create a look that captured the flamboyant nature of Liberace," says Mark Kalmus, creative director of Rhino Home Video, the West Los Angeles distributor behind the video release. When he came across the "Lots of dots" holographic pattern from Crown Roll Leaf (Paterson, NJ), says Kalmus, "I knew immediately this was the one I wanted."
Each video kit contains five package components: three video sleeves, a carton that holds them and a pop-up of oversized piano keys with Liberace prancing across them. The complex pop-up was glued on by hand.
The sleeves and carton have the same basic construction, which begins with holographic embossing and metallizing of a 48-ga polyester by Crown Roll Leaf. This material is adhesive-laminated to 18-pt SBS (14-pt for the sleeves) by Unifoil (Passaic Park, NJ). Unifoil also varnishes the lamination with an acrylic coating to enhance subsequent ink adhesion.
Next, AGI (Melrose Park, IL) prints the laminated structure in six colors plus UV coating on a sheet-fed, offset press. AGI also handles die-cutting of individual units.
Sold primarily through on-line and direct-mail channels for $59.95, "'Liberace' has been a big success for us," says Kalmus.
In a hurry? Request more info via Web-based reader service by clicking on the reader service number.
Or you can jump right to their Web site.
Companies in this article