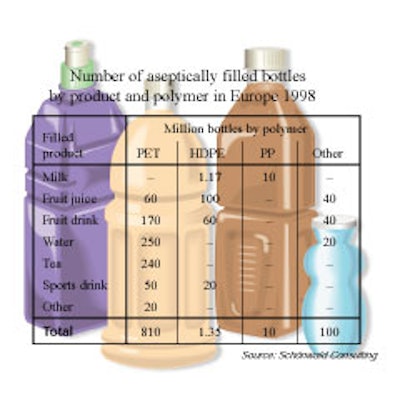 Among them was Dieter W. Schönwald of Schönwald Consulting (Besigheim, Germany), who presented the European data shown here. Bottle volumes, noted Schönwald, vary from 0.1 L to 5 L (0.1 to 5.29 qt).
In 1998, polyethylene terephthalate was clearly the preferred polymer in Europe for aseptic filling of plastic bottles, said Schönwald. He reported that 810 million PET bottles, containing the beverages shown in the table, reached the market in Europe in 1998. The closest competitor was high-density polyethylene at 1.35 million bottles. By 2003, Schönwald predicts that the total number of PET bottles in Europe will reach 5 billion. That's a growth rate of 520% during the five-year period.
In a hurry? Request more info via Web-based reader service by clicking on company name.
Or you can jump right to their Web site if it's listed.
Companies in this article