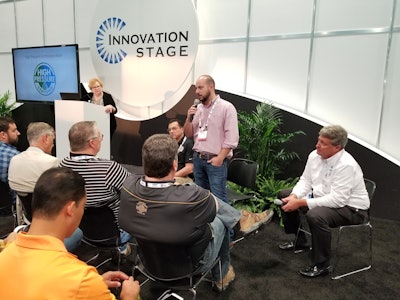 A standing-room only crowd squeezed into the Innovation Stage at PACK EXPO Las Vegas to learn about "What's new in high pressure processing." A panel discussion, moderated by ProFood World's Editor in Chief Joyce Fassl, featured expert insights from Jeff Williams, vice president, general manager – HPP of Avure, a division of JBT, Justin Segel, CEO of American Pasteurization, and Mike Durbin, manager of engineering and plant maintenance for juice producer Evolution Fresh.
"High pressure processing equipment has allowed our company to provide clean labels to consumers," said Durbin. "The equipment has also been easy to use and maintain."
Food and beverage companies can apply high pressure processing by installing their own equipment or using a tolling house for the process, said Segel. "In some cases, the tolling house can also serve as a distribution center or warehouse for food and beverage manufacturers," he added.
Williams spoke about the Cold Pressure Council and discussed how eligible Cold Pressure Council members can use the High Pressure Certified logo on packages to help identify the benefits of high pressure processing.
Consumer education and acceptance is key to the success of Council. Their goal is to educate consumers to recognize the certification logo and to understand the value it brings to food and beverage products. The benefits include increased food safety, longer shelf life, cleaner labels, and stable nutrition and sensory qualities for food and beverage products.
Founding members of the Council include American Pasteurization, Campbell Soup, Evolution Fresh, Good Foods, Hiperbaric, JBT, Avure, SUJA, Universal Pasteurization and West Liberty Foods.
For more information about the Council, visit http://coldpressurecouncil.org.
Companies in this article