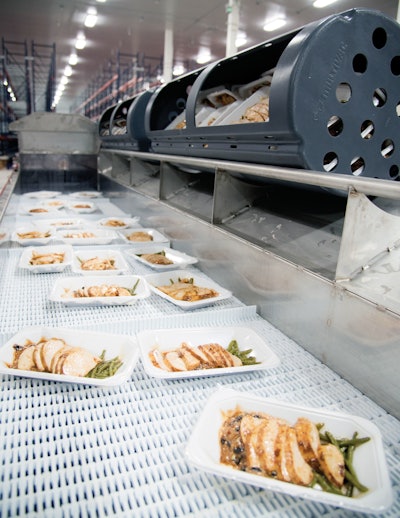 Most food scientists have been aware of it as a food process method for over 30 years, but its marriage with packaging has been less well known among packaging professionals. I don't have any hard data to support the notion that interest in HPP is spiking, but after PACK EXPO 2016, I had more people asking me if I knew about HPP than ever before. There was a larger presence at the show by processors and packaging vendors that service this area, which no doubt led to the increased awareness. Broader availability of products on the market, along with advances in the understanding of the effects of HPP on food and packaging, has made it a major player in the food processing and packaging market.
HPP is a process whereby foods (and sometimes packaged foods) are placed in a high-pressure chamber where they are exposed to pressures of 300–600MPa/43,500-87,000psi; water is used to create the isostatic pressure inside the chamber. This pressure destroys microbiological cells and protein in the form of enzymes, which are the major causes of food deterioration. Since this process is performed without heat, it preserves desirable characteristics such as nutritional value, color, texture, aroma, and flavor. The result is a shelf stable product similar to those provided by other processes such as retorting (canning) and aseptic processes.
Early developments focused on the effect of high pressure on the texture of foods, and only foods of specific water content and viscosity were available commercially. Guacamole was the first product available in the U.S. market. Growth of HPP was also limited by availability of equipment and knowledge of how to balance pressure exposure to limit physical effects and chemical reactions that could negatively affect the foods. Furthermore, incorporation of packaging into HPP was a challenge as little was known in the early years regarding the effect of the high pressure on material properties and seal integrity.
To design the best packaging system for HPP, you must know the processing parameters that will be used to process the food if the process is to be performed in-package. Batch HPP systems may use a pumpable product (such as Guacamole) that can be packaged post-process using a clean or aseptic process. However, processing in-package is where the challenge lies for the packaging professional. As with any process, the package design must include shelf life requirements based on deterioration factors of the food. Since HPP-processed foods are processed to provide fresher properties than typical thermally processed foods, material selection and shelf life design will be different and tend to include high-barrier packaging options.
Semi-rigid packaging such as trays or cups with flexible lidding are an option for batch processed foods, but if the process is to take place in-package, at least one component of the packaging must be able to have flexibility with regard to pressure. Rigid packaging such as glass or metal is not suitable for in-package HPP processing. Headspace is also important to consider for in-package processing. Generally it is kept to a minimum to allow pressures inside the process chamber to be reached more efficiently. Other factors to consider are delamination and loss of seal integrity. The balance between a strong seal and a peelable seal for cup or tray lidding material is an important consideration. Some studies show that barrier properties of film seem unaffected unless they are part of a laminated structure, but the effect on permeation should be examined at the specific pressure and time conditions for which the food will be processed. Sorption of aroma and flavor compounds from the food into packaging, as well as possible migration of packaging components into the food at high pressure, have also been studied but more work is needed.
Today, industry has caught up with equipment and technological developments and a variety of HPP-processed foods are currently available commercially. Juices appear to have the largest portion of the market since consumer demand for highly nutritious drinks such as smoothies have boomed. Salads such as cole slaw, potato salad, and three-bean as well as many other novel "wet" salads can be HPP processed. Generally they are bulk processed in a large bulk bag and repackaged in a retail ready package post-process. Dips and salsas have also made it to the commercial level along with fruit and vegetable purees, but whole fruit and vegetables are not possible or practical. Meat products are a less well known application for HPP but they have been on the market for at least two or three years. These include deli meats such as turkey and ham as well as items such as ready-to-eat meatballs or the chicken ready meals (image shown).
If you want to know more about this subject I recommend two excellent resources: Opportunities and Challenges in High Pressure Processing of Foods, Rastogi, N.K., K.S.M.S. Raghavarao, Balasubramamiam, V.M, Niranjam, K., Knorr, D. Critical Reviews in Food Science and Nutrition 47.1 (2007): 69-112.
The following website has videos showing examples of processes and cites references for some of the information they provide on their website: www.hiperbaric.com.
Kay Cooksey (kcookse@exchange.clemson.edu), PhD, is a Professor and the Cryovac Chair at Clemson University's School of Packaging.