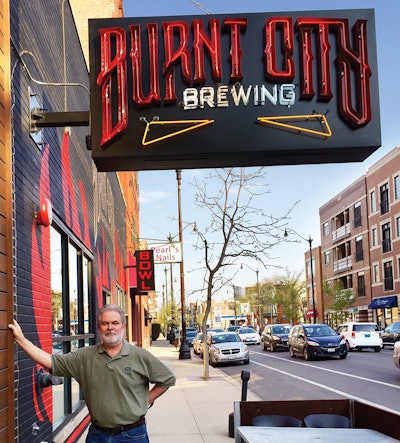 According to the Brewer's Association, the trade organization that represents craft brewers, new craft brewers are entering the game at the rate of two per day. Overall growth over the past 10 years has been in the double-digit range. Brewers Association Economist Bart Watson puts it this way: "It's been a pretty good decade for craft brewers."
Can such a pace be maintained indefinitely? In certain regions, think Portland and Denver, probably not. But in places like Florida and Texas, the field is pretty wide open, relatively speaking. And after that there is the export market, where demand is far ahead of available supply. Do American craft brewers look to meet that demand by building breweries in cities overseas? And if they do, is the product still an "American craft brew?"
All of this will sort itself out. The reason I mention it here is because there are huge opportunities in craft brewing for stakeholders in the packaging community. This was driven home, to me at least, when I attended the recent Craft Brewers Conference in Philadelphia. It looked like a mini PACK EXPO. Why? Because as craft brewers grow and begin to target markets not so terribly close to where they brew, automated packaging equipment becomes a key component in their ability to reach those markets. The Philly show had a lot of that equipment on display.
Until recently, packaging machinery OEMs haven't been all that good at designing equipment suitable for the smaller volumes common in the craft brew segment. Now that is changing, and nowhere was the change more in evidence than at the Craft Brewers Conference. Filling systems with names like Craftmate, from Krones, and Micro DPG, from KHS, were on display, and conference attendees were busily kicking the tires of both machines. Both of these large German machine makers are seeing the need for fillers that run in the range of 120-450 bottles per minute. Such machines retain the advanced technology and reliability characteristics of their larger cousins—they just operate at less breathtaking speeds.
And it wasn't just these big boys who were demonstrating such equipment. Palmer Canning of Chicago, Meheen Manufacturing out of Minneapolis, CFT out of Italy, and Leibinger out of Germany, to name just a few, also showed filling machinery scaled specifically for craft brewers.
The other thing so noticeable and impressive at the Philadelphia conference was the number of suppliers developing ways of coming to terms with the so-called aluminum can shortage. In actual fact it isn't a shortage at all, but rather a case where craft brewers struggle to meet the minimum requirements set by the can makers. This situation isn't likely to improve any, either, as Ball in the U.S. continues talks about buying its U.K. rival Rexam. Seeing this develop, brewers are turning to pressure-sensitive labeling or full-body shrink sleeve labeling that lets them order bright stock cans in large quantities and then customize them for various SKUs by labeling them or having them labeled. A great example of this is at Red Hare Brewing of Marietta, GA. By relying on the unique can supply/can labeling capabilities of Verst Group Logistics, Red Hare was able to get its 16-oz cans into Atlanta's Turner Field for the Braves' opening day game—even though it wasn't offering any 16-oz cans at all just four weeks prior to the game.
For details on the Red Hare application, please see our Craft Brewing Special Supplement at www.packworld.com/craft-brewing. You'll also be able to learn about Burnt City Brewing's redesign and renaming. Yes, that's me beneath Burnt City's newly unveiled signage. I'm a big believer in research.