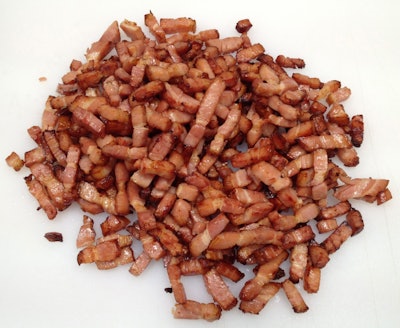 The world's growing appetite for bacon seems insatiable. In Chicago alone this summer, the city's 6th annual Baconfest included 160 restaurants inventing culinary creations using 7,800 pounds of the pork product to feed 4,500 people hungry for "swine dining."
To meet the burgeoning demand for cooked bacon, food processors have had to evolve. First, large quantities were cooked quickly and efficiently in linear convection ovens. Then processors adopted newer, faster technology for processing in high volumes: the linear microwave oven. Although it had some drawbacks in terms of the taste and appearance of finished products, this system produced the required volume, and has remained prevalent.
Those taste and appearance drawbacks, as well as sizable capital investments, space requirements and energy consumption, are encouraging many processors to look beyond the linear microwave oven to another technology: the spiral convection oven.
In Saint-Hyacinthe, Québec, Canada, Olymel plant manager Martin Croteau oversees the production of bacon and other cooked and sliced meats sold under the company's Smart Nature brand. In November of 2012, Olymel purchased a spiral oven from from Unitherm Food Systems in Bristow, Okla. to cook bacon bits, pizza toppings and flaked bacon. "Taste and appearance were deciding factors in the purchase of our spiral oven. Both are important to the people who purchase our products," Croteau says.
Spiral ovens convey food upward via a continuous conveyor belt that travels in multiple, circular tiers within a single oven enclosure. As bacon products cycle, fat is rendered from the ascending meat and is dispersed onto the bacon on the lower belt tiers. In this manner, the bacon is basted and cooked in its own juices, providing the taste, aroma and appearance of a traditional, pan-fried product.
Bartosz Psiuch, director of food processing equipment distributor Alimp, based in Mysłowice, Poland, says, "I believe the spiral oven produces a superior product, in terms of bacon flavor, appearance and aroma—more like a home-cooked product." He says Unitherm has been granted a patent in Europe for its method of cooking "more tantalizing" sliced bacon via its spiral ovens, and a similar patent is pending in the U.S.
"Spiral oven technology features many controls that enable operators to regulate various parameters that affect how the product will be finished," Psiuch says. Control of four main variables—time, temperature, humidity and fan speed—allows for individual recipe creation and different finishes for the final product.
Siemens controllers are standard on the Unitherm equipment today, although in the past Rockwell Automation Allen-Bradley brand controllers have been used, based on customer preference. Control systems are installed as easy-to-use touchscreen panels from which the four variable parameters are easily altered. Users can save variations of these parameters as a new recipe and then easily switch between various results in color or texture, both horizontally (in the same product) or vertically (among other products). Because Unitherm's oven is a continuous system there is little to no downtime between switching recipes, Psiuch says.
Available in electric or gas models, spiral ovens consume significantly less energy than the linear microwave and other cooking equipment. At Olymel, the spiral oven replaced two linear electric belt grills "so there was an immediate savings in electrical energy, labor and space," says Croteau. "It is a compact piece of equipment and requires fewer personnel to produce the same output."
Olymel's decision to purchase the spiral oven was partially determined by its smaller footprint. Unitherm's unit there measures 12.5 ft. x 14.5 ft. x 11.8 ft., and has up to 150 ft. of belt. An oven's capacity and throughput can be increased by simply adding more belt. While this makes the equipment somewhat taller, the advantage of a small footprint is retained, says Adam Cowherd, vice president of sales at Unitherm. He summarizes that a single spiral oven would take up only 20 percent of the space required for three microwave lines to producing the same output.
Also, says Cowherd, since natural gas is typically less expensive than electricity, "the cost to cook sliced bacon on a spiral oven is about one-third the cost of a linear microwave oven that uses electricity."
Unitherm Food Systems' spiral ovens can be seen in action in Booth E8152 at the 2014 Pack Expo Show, being held in Chicago November 2-5th. Food processors can also visit Unitherm's test kitchen in Maastricht, Netherlands, to see and test all the company's systems for cooking protein, vegetable and bakery products. The spiral oven can roast, steam, bake, broil or pasteurize a wide range of product including chicken, seafood, kabobs, vegetables and potatoes.
The mission of the test kitchen is to let food processors view new thermal cooking technologies and get hands-on experience with the equipment running their own products."The future of purchasing food processing machinery is going this way, where the customer can demand to go into a kitchen and actually try out their product on the machinery," says David Howard, Unitherm CEO. "Only then can they feel confident that the equipment best serves their operational parameters and expected results."
The cooking and chilling systems demonstrated include small footprint spiral ovens, as well as inline smoking and browning, and continuous pasteurizing and grilling of vegetables such as onions and peppers. Says Psiuch, "This facility demonstrates many of the most efficient technologies for processing foods. It creates a highly promising opportunity for large and small processors to try out systems that have never been seen before in Europe, and can enable them to better service their markets, whether ready-to-eat, food services or institutional."
Companies in this article