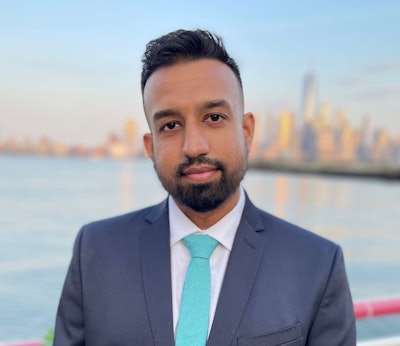 PMMI, The Association for Packaging and Processing Technologies, recently announced its fifth annual On the Rise Awards winners. Developed by PMMI's Emerging Leaders Committee, the awards recognize 10 young professionals who have demonstrated leadership potential in packaging and processing. Ravi Patel, controls engineering manager at ID Technology, a ProMach company, is one of the 2022 winners. Patel's strong technical and leadership skills have been integral to the successful completion of complex overseas installations. He has helped attract, retain, and develop new engineers and technicians, and he also introduced improved documentation processes and procedures for projects. Patel is currently working toward his Certified Automation Professional (CAP) certification through the International Society of Automation and is also a Six Sigma White Belt. He recently spoke with OEM magazine about his current role and career objectives.
OEM: Can you provide a brief description of what your company does?
Patel: ID Technology is a division of ProMach that specializes in labeling automation, coding, marking, and label production solutions for food, beverage, pharmaceutical, personal care, and household and industrial goods industries. The branch I am based out of develops labeling equipment [and] custom solutions.
OEM: What is your role and responsibilities at the company?
Patel: I lead the controls engineering department which entails developing automated system designs such as schematics, electrical panel layouts, and bills of materials to conform to ISO standards [and] customer requirements. I also design, program, and debug PLC and HMI programs for systems involving VFDs, steppers, and servo motion control using multiple platforms (concept to qualification). Some of my other responsibilities include programming vision cameras for inspection, data processing, and product identification, track & trace, and rejection. Additionally, I create documentation to meet compliance requirements, SOPs, work instructions, change control, and overall equipment manuals.
OEM: During your 6.5 years at the company, have you had the opportunity to learn different sides of the business?
Patel: I am involved in post-sales and service which includes supporting the customer for startup, SAT, integration, and troubleshooting onsite and remote, along with training. On the pre-sale side, it's more assistance in quoting the application to mitigate the gap between sales and project management to ensure the customer is provided a satisfactory and efficient solution.
OEM: How do you help the company innovate?
Patel: As part of the controls engineering team, we are constantly doing R&D to be ahead of the curve and provide more precise and accurate solutions as technology advances. I also lead initiatives to automate and streamline certain processes, along with hosting formal training sessions for our service technicians to ensure we provide effective support.
OEM: What obstacles have you faced in your career and how did you overcome them?
Patel: Being out in the field, you become the main representative of the company. You wear multiple hats as project management, customer management, sales, and engineering simultaneously. This can be overwhelming at first, but by finding the appropriate resources, you can help hone these skills to be more well-rounded in decision-making, reacting, and directing the project scope and root cause analysis. Learning from different points of views, situational awareness, and remaining eager and open has helped me grow; I strive to learn something new each day and will continue to do so!
OEM: How did you make your way into the packaging industry?
Patel: Growing up, I've always been fascinated by industrial automation. I enjoyed watching a TV show called How It's Made, which gave me a glimpse into a manufacturing production line and its complexities. After graduating from Rutgers University, I found myself in a role doing instrumentation which later led to a role in controls/automation at ID Technology.
OEM: What advice do you have for others who may be interested in starting a career in packaging or some aspect of the manufacturing industry?
Patel: What I learned is that engineering in the classroom is quite different from engineering in the real world. The problems you solve at work may not have a single well-defined, universally correct answer, therefore being creative and innovative can lead to endless opportunities.
OEM: As a rising star in your organization, what's next for you?
Patel: Continue to grow my leadership skills and oversee the planning and completion of engineering projects on a broader scale. I can also envision moving towards operational management to create systems for work efficiency.
OEM: Is there anything else that you feel has been important to your journey?
Patel: Being part of ID Technology, specifically the Oakland branch, you get the small company vibe, but also being part of the ProMach family, you get the network of the large company culture as well—the best of both worlds. In terms of mentors, I would like to acknowledge Mark Will and Jose Gonzalez. Mark was a mechanical engineer who, as a self-taught controls engineer, is now director of product development. He has helped me grow my skills exponentially in all engineering aspects. Jose, has 30+ years of experience in this industry, and his technical knowledge, root cause analysis, and innovativeness are unparalleled. Learning from him has helped me become much more well-rounded. Lastly, I would like to thank my family and wife. Without their endless support, I would not be who or where I am!
Companies in this article