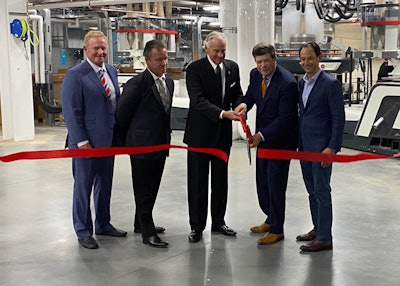 Pregis, a supplier of packaging and protective materials, has opened its newest facility in Andersen, S.C. The 168,500-sq.-ft. manufacturing site marks an $80 million investment by the company to create what Pregis calls "a new state-of-the-art film extrusion facility to manufacture performance-oriented, flexible packaging solutions for food, consumer packaged goods, and medical device applications."
At the ribbon cutting event to mark the opening of the new facility, Kevin Baudhin, president and CEO of Pregis Corp., said, "Packaging is a critical part of the economy and that's why we've been active in opening new plants this year—seven in the U.S. and three in Europe." He added that Pregis has spent $140 million in capex for its plants in 2021.
The new Anderson, S.C., facility will use a "performance-first approach to developing lightweight film solutions that incorporate recycled content and adhere to the How2Recycle and Association of Plastic Recyclers' compliance standards," according to Pregis. The facility also houses a film laboratory to develop and test materials.
"We believe that this new facility is the most technologically advanced extrusion facility in North America," said Baudhin. "The facility has been staffed with technology and market leaders who are focused on developing extruded films that have been engineered to meet market-driven performance requirements."
Four product types produced at the new facility are:
The Renew sustainability series, which maximizes the use of recycled content and is designed for the circular economy;
The High-Performance series, which meets water vapor transmission and critical performance testing to provide physical toughness;
The Barrier series built to withstand oxygen, moisture, odor, and chemical requirements to provide High-Performance series levels of protection; and
Pregis' versatile, diverse application General Performance series of film.
Jonathan Quinn, director of market development and sustainable flexible packaging at Pregis, noted that "sustainability is at the forefront of what we do as we drive toward the circular economy."
The company's focus on sustainability extends to the new facility itself. Key sustainability-focused features of the Andersen, S.C., building include:
LEED standards used for all appropriate materials;
Waste recovery systems engineered to help the facility achieve the goal of being a zero-waste facility;
Pallet-less shipping and optimized payloads to create transportation efficiencies and lower greenhouse gas emissions;
The use of skylights and reflective paint to reduce the need for artificial lights and boost the use of energy efficient lighting and equipment;
Elimination of single-use water bottles; and
Automated HVAC and auto-shutdown for electronics.
Read more about Pregis' 2K30 environmental goals.