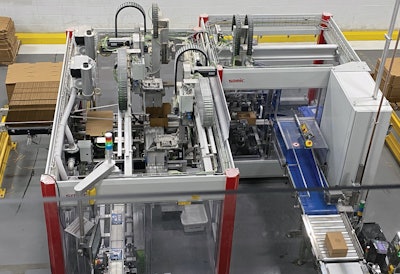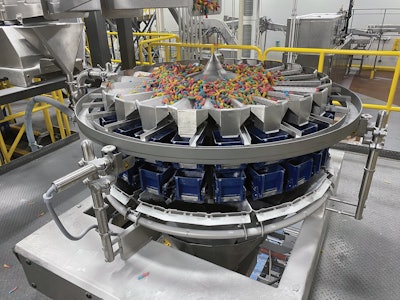 Chicago-based Ferrara Candy Co., a company related to Ferrero Group, recently completed a two-phase upgrade of the packaging operations for two of its best-selling candies: Trolli Sour Brite Worms and Black Forest Gummy Bears. The new equipment went into the firm's facility in the Chicago suburb of Bellwood.
Phase one in 2018 consisted of the installation of four Multipond MP-22-1000/400-H combination weighers each paired with a GEA SmartPacker CX250 low-drop vertical form/fill/seal bagger. Also essential was the installation of hundreds of feet of mezzanine-level Dorner conveyor connections that take the freshly made candy out to the four weighers.
Phase two addressed secondary packaging. Four Somic automatic case packers were installed as well as four Ryson spiral conveyors that take finished cases back up to the mezzanine level and then to palletizing.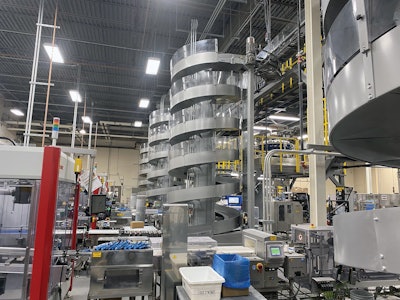 Prior to these upgrades, the confectionery products made in Bellwood were bulk packed and shipped to a Ferrara facility in a nearby Chicago suburb for primary and secondary packaging. Lack of space in the Bellwood plant was the key driver behind this bulk-pack-and-transfer arrangement. But eventually the Ferrara operations team saw an opportunity to increase efficiency. Perhaps even more important, the team was able to identify automated packaging equipment that would fit where it needed to fit in the Bellwood plant once some modest reconfiguring, involving the removal of a wall, had been completed.
Go here for key insights into the confectionery industry from PMMI Business Intelligence.
Ferrara Project Engineer Rafal Nagorzanski says each of the four Somic 424 T2D case packers runs at 23 to 25 cases/min. He emphasizes how important it was that both the primary and secondary packaging equipment selected be capable of keeping up with the upstream candy-making system, which produces 127 lb of Trolli Sour Brite Worms every minute. But he also points out that the footprint of the case packers was of paramount importance.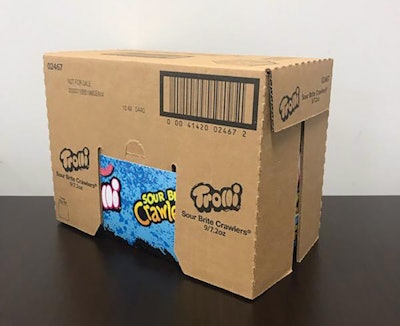 "We evaluated a number of case packing systems, and what we found was that some have a pretty sizeable footprint," says Nagorzanski. "We did not have the space for that. What Somic has been able to do is condense things so that multiple functions take place in a very tight space. Consequently, you don't need much floor space to fit their machines in."
One additional requirement that the Ferrara team had is format flexibility. "In addition to conventional wraparound cases, we also do two other formats," says Nagorzanski. The formats he refers to are both Retail-Ready Packages (RRP), and there are two varieties. One is a tear-apart wraparound case, with perforations, that turns into a Retail-Ready Package in the store. No tools are needed by store personnel. They just break the perforations along the sides and pull off the top.
The other RRP produced at Ferrara is a two-part tray-plus-lid format, and the tray is a brightly decorated paperboard. Any one of the four case packers could be called upon to produce this two-part format. That's why all of the case packers are equipped with a second magazine feed from which corrugated lids can be picked. According to Somic's Peter Fox, this tray-plus-lid format has some rather noteworthy features.
"Most notable is the way we tuck the corrugated cover inside the paperboard tray," says Fox. "We then glue that tab to the inside of the paperboard tray so that there's no adhesive to spoil the graphics on the outside of the tray. Also, the person in the store can easily push their thumbs into the two thumb holes on opposite sides to break the adhesive bond and easily pull the corrugated cover off. It's much easier than the tear-apart wraparound case with perfs."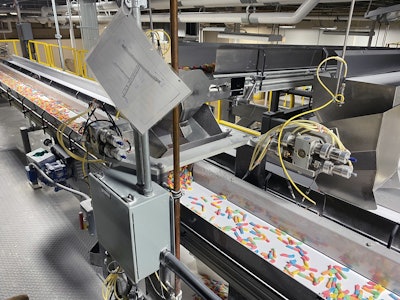 'Great solution'
"These case packers proved to be a great solution," says Nagorzanski. Director of Project Engineering Jim Tandy adds this: "When Somic made a presentation to our marketing team, that's when the Somic machines became the leading candidates, because our marketing team had never seen equipment capable of handling so many formats at such speeds in such a small footprint. We worked very closely with Somic on the case, tray, and tray cover designs. That collaborative element was a big part of what made this installation such a winner."
PACK EXPO Connects – November 9-13. Now more than ever, packaging and processing professionals need solutions for a rapidly changing world, and the power of the PACK EXPO brand delivers the decision makers you need to reach. Attendee registration is open now.
According to Fox, it's largely because Somic embraced servo technology and mechatronics so long ago—and then continued to optimize their deployment of these technologies—that the firm is able to design machines having a small footprint, impressive speeds, and the ability to handle multiple case formats. The machines at Ferrara, he notes, use Schneider Electric controls, including PacDrive-3 for motion control.
"We'll use other controls technology if a customer requires it, but our standard is Schneider," says Fox. "It's very decentralized, which means, for example, that our electrical enclosure can be very small because there are no drives housed in that enclosure. The drives are all integrated out on the servo motors wherever they are on the machine. In this case that's something like 40 servo motors. With servo motor and drive in one form factor, you greatly reduce the amount of cabling needed going in and out of the electrical enclosure. It also simplifies troubleshooting."
The other impressive characteristic of Somic's equipment is the response time. "It's all the more critical when you're combining all these functions together," says Fox. "If you're going to layer all these different functional groups on top of one another, everything has to be precise and fast when it comes to sending and receiving signals."
Also from Schneider is the case packer's industrial PC. "That's where we store all our format recipes and case parameters, and it's where operators interface with the machine," says Fox. "You don't have to go into the PLC ever on our machine. That's all done through the HMI. No plugging a laptop into the controls cabinet."
At least one, and oftentimes all four, of the lines are in production practically 24/7—except, of course, during scheduled maintenance and sanitation. All four lines—each consisting of a combination scale over a vertical f/f/s bagger, a case packer, and a spiral takeaway conveyor—receive candy directly from the cooler that is the last piece of processing equipment. A bucket conveyor from Deamco brings product from the ground-floor discharge of the cooling unit up to the mezzanine level. Eventually the product reaches an impressively efficient array of Dorner belt conveyors that split the flow of product twice. This is how the product eventually reaches the vibratory infeed conveyors of the four Multipond combination weighers. For a good look at how product flows, see video above.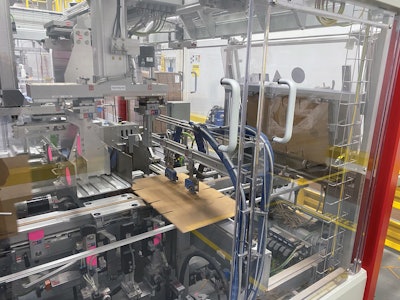 'Fines removal'
Primary packs produced on the line can range from 4 to 8 oz. On the day of our visit, the primary pack in production on all four baggers was an 8-oz bag of Trolli Sour Brite Crawlers, and all four case packers were set up for the same case format: a 12-count wraparound corrugated. We'll focus here on just one of the four lines, beginning with the Multipond 22-head weigher. Like all such machines, it uses load cells to weigh product and then picks the best combination of weighments to drop into the bagger below. But one rather unique feature offered by Multipond is what's called "fines removal."
Fines are the fine-grained substances that occur during the manufacturing and processing of products including not only confectionery but also sugared gum sweets, salted crackers, and nuts. If too much of this substance makes its way into the bag, the package simply doesn't look as attractive. Also, fines can sometimes interfere with seal integrity if they interfere with the heat-seal jaws that need to close as cleanly as possible on the flexible film.
Multipond's machine removes fines through a unique patented design. Product is vibrated from the center cone and down into the 22 vibratory cross-head feeders. Each feeder has a very small slit cut into it. The product pieces are much too big to pass through these slits, but the fines slide right through and into a funnel that leads to a circular trough of sorts (this can be seen clearly in the top left photo on page 61). The contents of the trough are constantly removed by vacuum. This greatly minimizes the amount of fines that are able to make it into the scales below or, ultimately, into the bags.
"Ferrara has had a long relationship with Multipond," says Tandy, "and they have demonstrated that they are the best when it comes to handling the gummies and sticky kinds of products that we produce. Their fines removal technology is definitely one of the things that makes them stand out."
As bags are formed and filled on the GEA bagger, they pass a Markem-Imaje ink-jet coder for imprinting of date codes. The bags then drop onto the belt conveyor that is the first component of the Somic case packer. It includes a product conditioner that vibrates and applies top-load compression to smooth out each bag and keep product from clumping in the bottom. "If this clumping is allowed," says Fox, "you need to oversize your case to account for the 'thicker' bag."
Just ahead of the actual case packer infeed, bags pass through a Mettler-Toledo metal detector and an Ishida checkweigher. Then a servo-driven smart belt feeds bags with the proper spacing onto an independent servo-driven pivot belt that pivots up slightly as it drops bags into one pocket of a two-pocket collation device. Then, once the collator indexes slightly at a right angle so that its second pocket can be filled, the pivot belt returns down to its start position and again pivots in an upward direction as it neatly stacks another six bags into the second pocket. Once the collation device has all 12 bags, it strokes a short distance perpendicular from the direction of the pivot belt to a position from which two overhead paddles take turns sweeping 12 bags at a time at another right angle onto a flat corrugated blank that has been picked from the magazine feed by vacuum cups.
Bag orientation varies
It's important to note that for the conventional wraparound case, bags simply lie flat as they are fed onto the corrugated blank. But when either of the Retail-Ready Packages are in production, specialized tooling is used to first tilt the bags into a standing position before they're pushed onto the flat blank.
One other design detail Fox points out is the "forming cassette" that positions itself around the bags the instant they're in place on the flat corrugated blank. The single-wall B-flute corrugated (or the 30-pt SUS in the case of the tray-plus-lid format), is thus formed around this sturdy steel frame rather than around the comparatively shapeless bags themselves. This produces a much sturdier case. It's while the corrugated is being pushed against the forming cassette when the hot melt adhesive, applied by a Nordson Pro Blue Liberty 14 adhesive applicator, sets up. Then a hold-down device comes down and holds down the bags while the forming cassette is extracted.
At this point the container is indexed at a right angle to a station where Nordson-applied hot melt adhesive is applied to the top flap and the case can be closed. Or, in the case of the paperboard tray-plus-lid format, a corrugated top is picked from a secondary magazine feed and placed over the tray.
All that remains is finished case discharge around a turn, a Markem-Imaje coder that ink jets the date code information, and an Ishida checkweigher. Then cases enter a roller conveyor that takes them to a spiral conveyor from Ryson leading to an overhead conveyor and eventually to palletizing. So far, palletizing is done manually, as once again space constraints make it difficult to fit an automated system in. But considering how efficiently the Ferrara team found a way automate case packing in a tight space, it's possible this could also change before too terribly long.

Companies in this article
Videos from Nordson Corporation