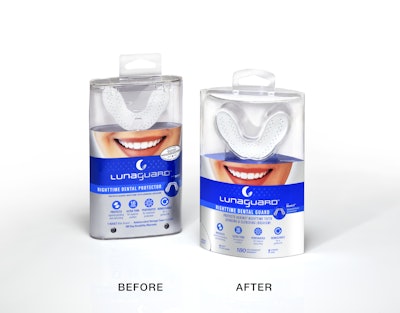 Until now, 30% RPET had been the limit. This new capability is possible because HLP Klearfold began a vertical integration program in 2009, investing in custom extruders designed to make premium-quality, box-grade plastics exclusively. Having these extruders has enabled the company to produce RPET with 30% PCR that is indistinguishable from virgin PET. Today, thanks to this capability, combined with carefully and locally sourced postconsumer PET waste, HLP Klearfold is able to produce box-grade RPET with 100% PCR, with no meaningful sacrifice in quality or performance, and without compromising the high marketing appeal of Klearfold cartons.
While 100% recycled content is certainly newsworthy, sometimes a strategy based on source reduction is the way to go. One good example of this talked about at the HLP Klearfold booth in Las Vegas was a package redesign executed recently for Warren, MI-based McKeon Products Inc. The firm's LunaGuardTM Nighttime Dental Protector bite guard is now sold in retail channels using HLP Klearfold's patented KlearfoldR Keeper package.
LunaGuard is a bite guard that provides exceptional protection from bruxism, or grinding of teeth. Selling for about $25, it's made from a strong thermoplastic that helps to diffuse and absorb grinding forces, and its ultra-thin and lightweight design allows for total comfort while sleeping.
When LunaGuard was launched in 2015, a primary packaging goal was to develop a visual package that would display the unique guard prominently, giving consumers the opportunity to clearly see its unique slim shape while providing a premium look on the shelf. The original package accomplished all this, but it used more material than necessary, was expensive, and was a very complicated design that was cumbersome to hand load.
This former package consisted of six components: a .012 printed PVC sleeve that's offset-printed and side-seam glued to form a sleeve, a PVC thermoformed fold-over tray, and four injection-molded components: two end caps, a shelf, and a clip to position the bite guard. In addition, a plastic hang tag was adhered to the top end cap, and clear plastic tape-like "wafer seals" were added at top and bottom to secure the end caps to the sleeve. Assembling these components and filling the package was complicated and inefficient.
For the redesign, McKeon chose the patented Klearfold Keeper package from HLP Klearfold. The Keeper is a unique visual package system that combines just two components. The outer component is a .014 PET sleeve printed on a flexo-combination printing press and creased using Klearfold's proprietary RF scoring technology before being die-cut and glued to form a sleeve. The inner component is a locking tray thermoformed from .020 PET. The end result is a secure and premium-quality package with great shelf presence.
Klearfold Keeper offers significantly more efficient hand-filling than the original package. Instead of assembling six packaging components, the bite guard and the protective case are loaded into the Klearfold Keeper inner tray, the tray is folded over and sonically sealed, then this sub-assembly slides into the clear plastic sleeve. In-folded tabs on the sleeve engage a specially designed flange on the inner thermoformed tray, locking the two components securely together without the need for wafer seals. The inner tray has an integrated hang tab, so no separate hang tab need be applied. And thumb-notch perforation in a corner of the clear plastic sleeve provides a unique, easy-opening feature. Removing the thumb-notch also removes the lock, allowing the tray to be easily disengaged from the clear sleeve. In addition to simplifying the loading, the Klearfold Keeper package brought a 29% source reduction by weight.
Devin Benner, CEO of McKeon Products, was pleased at how the redesign panned out. "Our goal was to reduce the amount of plastic by at least 25%, and we surpassed that by 4%. One of the main challenges was keeping the overall brand impression of the original packaging while reducing the 6 parts down to 2. The other challenge was retaining the clear product display area that so nicely staged the product to the consumer. Both had to be accomplished in a way that did not compromise durability. There was even a cost savings for the packaging itself."
Companies in this article